There's A Hidden Story In This Ad Campaign That All Parents Need To See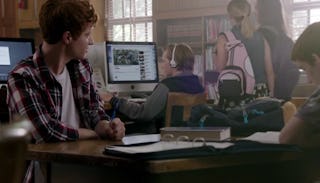 Image via YouTube
This powerful ad has a very unexpected ending
"Evan," a two-and-a-half-minute spot from advertising agency BBDO New York, is making the rounds, and it's incredible how much is packed into it. You'll probably want to watch it more than once, because once you see the ending, you won't be able to believe you didn't see it coming.
Which is exactly the point.
The ad is for Sandy Hook Promise, a nonprofit organization started in the aftermath of 2012's gun tragedy at Sandy Hook Elementary School in Newtown, CT. It aims to help parents, teachers and the rest of us realize what we should be looking for, even when we're focusing on everything else.
"When you don't know what to look for, or can't recognize what you are seeing, it can be easy to miss warning signs or dismiss them as unimportant. That can lead to tragic consequences," Sandy Hook Promise co-founder and managing director Nicole Hockley told Adweek. Hockley lost her son, Dylan, in the Sandy Hook shooting. "It is important for us to show youth and adults that they are not helpless in protecting their community from gun violence—these acts are preventable when you know the signs. Everyone has the power to intervene and get help. These actions can save lives."
At first watch, the ad seems to be about a burgeoning romance between two high school students exchanging anonymous messages on a common desk at the library. As the messages progress, the ad's main character, a teenage boy, becomes obsessed with locating the mystery girl with whom he's flirting during downtime in study hall. Every girl he sees in the hallway might be the one, and he can't stop stealing glances in the hopes that she'll recognize him.
And then, just when all hope is lost and the library closes for the summer, ending their desktop romance, the two serendipitously discover each other while signing yearbooks. This is the start of a beautiful whatevership.
And then a gunman enters the auditorium.
The kids panic and run, while the viewer is totally blindsided. We were all so focused on the story in the foreground that we missed a collection of signs that are so obvious in retrospect it makes your stomach turn.
Another boy featured in the ad, unnoticed both by the video's protagonist and by us, despite being in the background of nearly every scene, is disgruntled, bullied, hostile, and openly exploring guns and gun violence. He's reading a gun magazine, he's flipping off other students for no reason, he's pointing a gun on Instagram, he's pretending to shoot a teacher. He's unseen, he's ignored, and he's both right out in the open and completely invisible. Which always seems to be the case, after the fact.
The signs are unmistakable, if only we pay attention. If only we're as attentive as the parents of the boy in Utah who brought guns to school yesterday.
In a story out of Fox12 in Oregon, two parents noticed their 15-year-old acting strangely the morning before school and then realized he had taken the family's shotgun and a handgun to school that day.
This mother and father raced to school to try and stop what they feared their son was going to do and, incredibly, they made it. They got to his classroom just after he'd fired the gun into the ceiling and aimed it at his own neck. While the teacher and a student distracted him, his parents arrived and pulled him into the hallway before anyone could get hurt.
Sadly, we've all heard dozens of stories of school shootings over the past few years, and never once have we heard of something like this. This isn't to say that these astute and fast-acting Utah parents are the world's greatest, or that the parents of other gunmen are oblivious failures. There are a million different reasons some kids slip through the cracks and others get booked on nothing more than a weapons charge. It's always easy to see what was obvious, after the fact.
But there's no excuse anymore for not knowing the signs. Not anymore. Often, as the ad shows us, they're plain as day.
We just need to pay attention.
This article was originally published on