All Schools Should Look At This Dress Code That Finally Gets It Right
by Christina Marfice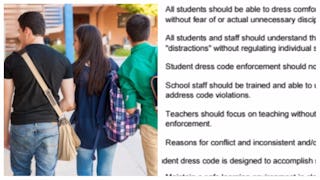 This high school's dress code supports diversity and equity, and we are here for it
When school dress codes go viral, it's all too often because they suck.
In almost every way, school dress codes single out girls. They forbid short shorts and skirts, spaghetti straps and tanks tops and form-fitting clothes like leggings and yoga pants, telling girls in no uncertain terms that the natural shapes of their bodies are forbidden at school. In more egregious cases, they ban things like natural hairstyles, specifically targeting students of color and telling them their culture is not welcome in what's supposed to be a safe space for learning.
Do those rules benefit any students? We don't think so. They stomp out diversity and gender equity, which are actually ideals we should all be fostering in kids.
Evanston Township High School, in Evanston, Illinois, just released its freshly rewritten dress code for the upcoming school year, and we can hear the students cheering already. In the first section of the three-page document, the school outlines its "dress code philosophy," which includes this delightfully salty statement: "All students and staff should understand that they are responsible for managing their own personal 'distractions' without regulating individual students' clothing/self expression." That's right — at Evanston Township, girls are not responsible for covering up their bodies for the sake of other students.
"Evanston Township High School's student dress code supports equitable educational access and is written in a manner that does not reinforce stereotypes. To ensure effective and equitable enforcement of this dress code, school staff shall enforce the dress code consistently and in a manner that does not reinforce or increase marginalization or oppression of any group based on race, sex, gender identity, gender expression, sexual orientation, ethnicity, religion, cultural observance, household income or body type/size."
THANK. YOU.
That's not to say students at Evanston Township can wear anything. Section two outlines the body parts that must be covered by clothes: genitals, buttocks, breasts, and nipples. That's it. Shoulders are fine. Legs can be shown. Even midriffs are allowed to freely exist under these rules. Section three goes on to say that students are required to wear a shirt, some kind of bottoms and shoes. Students are allowed to wear:
Hats facing straight forward or straight backward. Hats must allow the face to be visible to staff, and not interfere with the line of sight of any student or staff.
Religious headwear
Hoodie sweatshirts (wearing the hood overhead is allowed, but the face and ears must be visible to school staff).
Fitted pants, including opaque leggings, yoga pants and "skinny jeans"
Pajamas
Ripped jeans, as long as underwear and buttocks are not exposed.
Tank tops, including spaghetti straps; halter tops
Athletic attire
Visible waistbands on undergarments or visible straps on undergarments worn under other clothing.
Students aren't allowed to wear anything that depicts drugs, violence, pornography or illegal activities, and hate speech on clothing is also barred. They also can't just wear swimsuits to school. But other than that, they're free to wear whatever makes them most comfortable while they learn. Bring on the tanks and yoga pants.
What makes this dress code even better is that the longest section, section five, has to do with enforcing it. There's a whole list of rules in place ensuring that teachers and administrators can't enforce the dress code more severely based on students' sex, gender identity, sexual orientation, race, religion, household income, body type/shape or body maturity. Students who do manage to violate the dress code are never to be called out publicly, shamed or forced to wear embarrassing garments to cover up their mistakes.
The result of this is that the students at Evanston Township are going back to a school that does foster the safest and most comfortable possible learning environment for them, because they won't be policed over something as inconsequential as their clothes.
Which is something all schools should get behind.
This article was originally published on