Former Ivanka Trump Exec Says She Had To Fight 'Long And Hard' For Paid Maternity Leave
by Maria Guido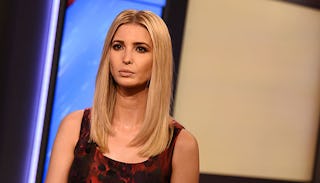 Image via Ilya S. Savenok/Getty Images
Ex-employee alleges she was told, Trump companies "don't offer maternity leave"
Marissa Velez Kraxberger, the former Chief Marketing Officer at Ivanka Trump's clothing company, shared a powerful Facebook post this week, outlining her fight to get maternity leave after accepting her job offer at Ivanka's company. Since Ivanka's been Trump's poster girl for the "working woman" — surely she happily offered maternity leave for her own employees, right? She was by Trump's side when he presented his (terrible) plan for family leave, and she even started the hashtag, #WomenWhoWork.
Spoiler alert: Ivanka is as full of shit as her father.
Kraxberger writes about her experience, and it's infuriating. She admits to trying to refrain from writing about her experience, but when she saw a commercial with Ivanka and her father touting their "maternity leave policy," she felt like she "was going to be ill." She had to relay her experience.
"When I first interviewed with Ivanka I was 2 months pregnant, she called to offer me a job, which I was at the time very excited about, and when I asked about maternity leave she said she would have to think about it, that at Trump they don't offer maternity leave and that she went back to work just a week after having her first child," Kraxberger writes.
Ivanka, poster-woman for the Trump campaign's dedication to mothers had to "think about it?" She had to think about offering her own employee — who would be part of the team who created Ivanka's #WomenWhoWork campaign — maternity leave? That's rich. As is throwing in the little detail that she went back to work a week after having her first child — as if the average woman has enough resources and help to do such a thing.
The #WomenWhoWork campaign is explained like this on Ivanka's site: "Ivanka has built a large community of thought-­leaders from all industries and spheres of influence in order to share their diverse viewpoints, skills and expertise and equip the modern professional woman to be her best self." Yeah. Too bad her "best self" may have to beg for maternity leave.
Kraxberger accepted the job offer anyway, agreeing to talk about the maternity leave further down the road, closer to her baby being born. And subsequently, she and her colleagues who created #WomenWhoWork "fought long and hard to get [Ivanka] to finally agree to 8 weeks paid maternity leave."
We shouldn't buy what Ivanka's selling. She's dangerous. She's dangerous because when her refined, educated, classy self stands next to her father and endorses his crazy, some of us actually believe he can't be that bad. And the one thing she supposedly stands for that makes her an attractive member of her father's team for women — she doesn't actually stand for. Her own employees had to allegedly "fight long and hard" for paid maternity leave. If this is something she's not automatically willing to give her own employees, how are we supposed to believe it's something Trump would fight for at all — considering he parades Ivanka around as if she's the poster woman for all things working mom?
Ivanka using her own experience to argue against paid maternity leave for her employees is a perfect example of how tone deaf this family is to the experience of average Americans. Donald Trump's maternity leave plan is a throwback to the 1950's — which makes sense since apparently "Make America Great Again" means toss out all the progress we've made and go back to our sexist, homophobic roots.
Trumps maternity leave plan makes no mention of paternity leave or leave for LGBT or adoptive parents. It completely ignores the changing landscape of the American family.
"I'm not writing this because I think Ivanka is a bad person. I can see how it might be possible to go back to work after having a baby when you have a lot of help at home, I think she suffered by not staying home longer with her kids when she could have," Kraxberger continues in her post. "I am however saying that if you truly support parenting and children then you actually have to support it fully… and that also means supporting maternity leave for adopted children and paternity leave as well. How can she claim that their maternity policy is a comprehensive solution for our country?"
Ivanka recently claimed that "The most important job any woman can have is being a mother." That's a bunch of sexist garbage, but clearly she doesn't even believe what she's selling. The apple doesn't fall too far from the tree.
Kraxberger ends her post, "We, as women, need to rise and have a voice against this man and all that he stands for."
Indeed.
A brand spokesperson for Ivanka Trump wrote in an email to Scary Mommy, "While we respect differing political views from employees, past and present, we are steadfast in our belief that we have built a culture and a brand to be proud of and are deeply committed to supporting and empowering women."
Mkay.
This article was originally published on