Marine Vet And Little Girl Fighting Deadly Disease Are Best Friends Goals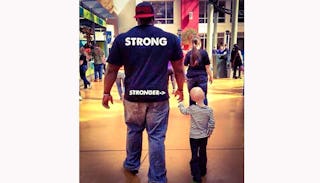 Marine vet and little girl fighting a deadly disease have inspiring best friends story
The unlikely friendship of a Marine Corps veteran and a little girl is an inspiring example of best friends goals.
David "The Beast" Douglas is a motivational speaker and professional weightlifter who has been winning international awards in the sport since 2008. He told Fox 29 that he gets his strength from 12-year-old Lindsay, who is fighting a rare disease called Progeria. It is a progressive genetic disorder that makes children age rapidly – about 8 to 10 times faster than the average person. " She fights it, but you would never know because of the size of the smile on her face," Douglas wrote on Facebook.
The pair met at an event organized by the nonprofit HopeKids that helps kids with life-­threatening medical conditions. "We surround these remarkable children and their families with the message that hope can be a powerful medicine," the site reads. Douglas and Lindsay met at Relentless, an event that matches professional body builders with kids fighting serious diseases. They've been best friends ever since.
At a recent HopeKids event, a friend snapped a photo of the two that shows his shirt that reads "STRONG" at the top and "STRONGER" at the bottom with an arrow pointing to Lindsay. "People looked at me as strong when everything about her was stronger. Instead of putting those words off to the side, I decided to put it right on me to make the point even louder," Douglas wrote.
Douglas often shares heartfelt sentiments about Lindsay on social media. He posted the above photo with the caption, "Every time I look at this picture of me and little Lindsay meeting for the first time at Relentless years ago, a rush of emotions come back. This little girl changed my life in so many ways … I miss her and her family each day that passes before we soon will see each other again. Happy birthday little sis!" Lindsay's parents know how special the friendship is, too. With just a few days notice, they traveled from Michigan to California so Lindsay could surprise Douglas before he had surgery.
Douglas has become a fundraising advocate for Progeria research because of his friendship with Lindsay. She and parents have an annual charity walk, which you can donate to here. "Anything and everything will be going towards our next generation of kids fighting a hard fight," Douglas wrote.
If you haven't said awwwwww enough, watch this video and see Douglas surprise Lindsay at one of her charity walks. Warning, you'll want to grab some tissues first.
This article was originally published on