You Want to Give Experiences, But Your Kids Want Things. Now What?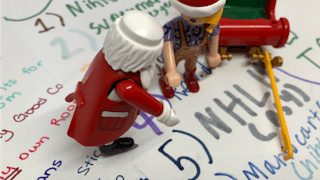 KJ Dell'Antonia
"Experiences, not things."
How often have you heard those buzzwords already this holiday season? In our over-cluttered, post-Kondo world, experiences are the gift of the moment. I've no doubt they're what Gwyneth is giving (with a stocking stuffed to the brim with potions from her Goop catalogue, of course). Quite possibly Mayim too, if your style icons trend in a different direction.
As parents, we're looking for ways to eliminate the influx of "stuff" into our homes, and the fact is, most of our kids have enough things already, even if we don't number ourselves among the one percent. Need some statistics to support that? Just 3 percent of the world's children live in the United States, but they consume 40 percent of the world's toys. And there's a nasty little British survey out there suggesting that kids play with only about 5 percent of the toys they do own, possibly because they have so many they don't know what to do with the rest.
In my own research — a study performed entirely in my kitchen — three out of four children can't remember last year's gifts without significant prompting, and only fifty percent can locate more than one such gift.
Got it.
But as good as "experiences not things" sounds, it's harder to achieve. Our kids might balk or whine for the latest gadget, and experiences take time and effort. Having given them, you, too, often must experience them, which means they can feel like a double whammy to a packed to-do list. And chances are your family disagrees on what constitutes an enjoyable experience, as well. You might treasure the gift of an entire weekend spent at home doing absolutely nothing and driving absolutely nowhere, but it's hard to see your kids being excited to find that on a note wrapped in tissue paper.
Experiences may be far more memorable than material gifts, and make both kids and adults happier than things, but it's hard to deny ourselves the pleasure of watching the look on a loved one's face when unwrapping that longed-for set of headphones or video game. It's also hard to deny that those are the kinds of things that make up the bulk of our kids' wish lists. I've got lists from two of my four kids right here, and of the eighteen items, only one is for something that can't be wrapped: one daughter wants "my own room." Sorry, kid.
I suspect, though, that those wish lists are more the result of cultural prompting and our holiday history than some deep soul-searching. I have to rack my brain (and consult a list) to buy my kids a material present, but I can tell you what they'd like most to do in a heartbeat. The single one thing that would bring my youngest son joy, he of the Nintendo-centric multi-colored bullet points, would be for the whole family to sit down and play a game of Monopoly from beginning to the long-delayed bankrupt end. The child that wants her own room would adore an afternoon of crafting in which I helped her, not her younger siblings, to achieve whatever goal she had in mind. Oldest son? He'd trade the fancy headphones for a Bruins game, no question. Younger daughter? A day in the kitchen without her big sister taking over the show.
Those aren't far-reaching dreams along the my-own-room lines, but possible gifts, and what's more, every one of them could have a wrapped component (tickets, supplies, a Monopoly game that still has all the pieces). There's a risk — if those afternoons of board games, crafts or cooking become an Alice in Wonderland teatime, with jam tomorrow and jam yesterday, but never jam today, then I haven't given an experience, but a disappointment. Perhaps we can get around that by scheduling the fun, and giving a countdown calendar along with the gift so the result will be far more memorable than the latest trendy plastic toy.
This doesn't mean those trendy toys or headphones are bad (and it doesn't mean we won't be unwrapping our share). But it's worth noting, as we look back at last year's gifts, that 61 percent of adults in that British survey admit that their kids would play with a bigger variety of toys if their parents joined in too. More than things, more than watches and interactive tablets and drones, we humans crave connection — and even when we package up socks and funny T-shirts instead, that's still what we're trying to make.
When you keep that in mind, "experiences instead of things" stops being a vaguely annoying catchphrase for people who can afford to give trips to Disneyworld, and becomes a reminder that gifts that can be enjoyed together are the ones most worth giving, and the ones our children will remember when next year rolls around.
Want to put experiences, not things, in more of your gift bags this year? Try these tips:
Give a family outing. Broadway shows, pro sports games and circuses may top the big ticket list, but a night at an inexpensive hotel with a pool makes a great family mid-winter treat. Package up a movie gift card with show times, a scheduled date and snacks to sneak into the theatre. Put a visit to a local farm or petting zoo on the calendar for spring, and then gift the calendar itself (cute baby animals preferred) with a countdown to the big day. For families with older kids, look for an Escape Room (kind of a group live action puzzle) in your area and book a visit.
Take a class together. Cooking, baking, crafting, soldering, bike repair — surely there's a skill you and one of your children could expand together, or that could be enjoyed by one of your kids alongside a grandparent or aunt or uncle.
Try a kit. Winter vacation usually offers more downtime and at-home time than any other week on the calendar, which makes it a perfect time to actually build that Useless Machine (a favorite at our house), sew Scrappy the Dog, make DIY lip balm or learn circuitry. (Make sure you, or another adult in your house, is interested in the activity. Even the most alluring robotics kit is likely to languish if you're expecting your child to tackle its challenges solo.)
Subscribe to a whole series of kits. Tinker Crate (and its siblings, Doodle Crate and Kiwi Crate) will send your child a monthly age-appropriate activity — or try out one of the subscription cooking and ingredient boxes for an interested tween or teen, or for a parent-and-child pair. Lillypost will send a box of age-appropriate books, each one wrapped up like its own present.
Get gaming. There's no substitute for a board game (go simple with Clue, silly with Telestrations or master the intricacies of Settlers of Catan, the game of which my sister-in-law famously said, "This would probably be fun with different children"), but check out digital group games like Drawful and Quiplash (powered by smartphones mirrored to a TV or desktop — as one friend suggested, be sure to get the family-friendly version "so your kids don't end up suggesting names for an X-rated bakery like mine did").
Make a plan. Even if the experience isn't a gift, that's no reason not to make a special point of sharing one over the holiday season. Make a gingerbread house or a family video for missing loved ones. Celebrate Jolabokaflod, an Icelandic tradition of giving a book on Christmas Eve and then spending an evening reading together. Make chocolate fondue, a dessert that can only be enjoyed if you gather around the table.
Bottom line: Let's shop a little less, be together a little more, and see what you remember most next year.