'The Pumpkin And The Pantsuit' Is The Perfect Book To Explain The 2016 Election To Your Kids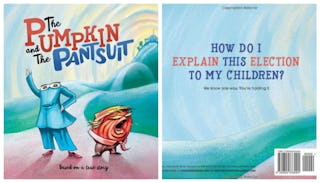 barettSF
I'll never forget the Post-It note I left my daughter on election night. In reality, it was more like three in the morning and I hovered near her dresser, my heart breaking, thinking, I can skip this, right? I don't need to write, "Trump won," because then it would be real, and I can't even believe this right now. Is this the Twilight Zone? I mean seriously. If I run into that wall over there, will I wake up?
The two minutes I spent in my daughter's room hovering in a silent existential crisis will be with me forever. I wrote the note, I left it on her dresser, and she woke up a few hours later and ripped it to shreds.
I wasn't the only parent struggling on November 9. In fact, Van Jones, a political commentator on CNN, vocalized as much when he said, "How do I explain this to my children?" A new book, The Pumpkin and The Pantsuit, found inspiration in Jones's question and seeks to answer it.
Created by San Fransisco advertising agency, barettSF, Executive Creative Director Jamie Barett, told the The Huffington Post, the inspiration for the book came about as an attempt to answer Jones' question.
The book begins, "A short, short time ago in a land not very far away, there lived a Pumpkin and a Pantsuit. The Pumpkin and The Pantsuit each had the same, shiny dream. They both wanted to live in a big white house."
There's no mistaking the inspirations behind the personified pantsuit and pumpkin. What follows is a journey for both candidates of "making speeches," "answering questions," and "telling everyone what they believed in."
Just like reality, the Pumpkin wins the election, and many people are "bummed out." But the Pantsuit is not entirely defeated. The Pantsuit goes on to inspire all the little pantsuits that sometime soon one of them will live in the big white house.
The book isn't simply a rehashing of political events for young readers, but a hopeful and cathartic story for children and parents alike.
As Todd Esiner, barettSF creative director and one of the book's authors, told The Huffington Post, "For children, this message could be as simple as it sounds. You won't always win, but you never lose as long as you don't give up. Keep going, keep trying, keep believing."
"For parents," Esiner continued, "the Pumpkin may not be the president you wanted to see, but look for the positive. Hillary Clinton may not have 'won,' but she inspired. The future is still everyone's to shape, so carry on."
The Pumpkin and The Pantsuit ends with a dedication page that we can all get behind whether we're little or grown: "Dedicated to everyone who isn't giving up."
Preach.
Editors may receive samples and/or a share from purchases made via links on this page.