Explosion, Multiple Fatalities At Ariana Grande Concert In Manchester, UK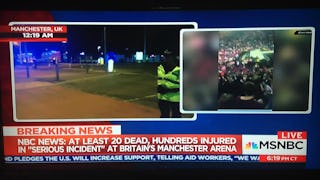 Image via MSNBC
Fatalities reported after explosion at Ariana Grande concert in Manchester
There have been reports of a large explosion at an Ariana Grande concert in Manchester, UK, at the Manchester arena.
Police have confirmed a "number of fatalities" following reports of an explosion at Manchester Arena, BBC reports.
"Emergency services are currently responding to reports of an explosion at Manchester Arena. There are a number of confirmed fatalities and others injured," Greater Manchester Police said in a statement posted on Twitter. "Please AVOID the area as first responders work tirelessly at the scene. Details of a casualty bureau will follow as soon as possible." MSNBC just updated 22 dead, 59 injured.
"Ariana is O.K.," her publicist, Joseph Carozza, told the New York Times. "We are further investigating what happened."
Manchester Arena is the largest indoor arena in the UK. We will update the story as more news becomes available.
This article was originally published on