These Are The Face Rollers Everyone Loves And Yes You Need One
by Team Scary Mommy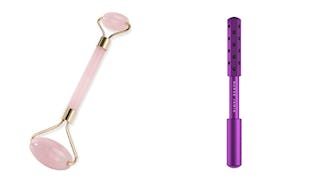 Image via Amazon
People are obsessed with these very pretty, multifunctional face rollers
Prepare to meet your new skin care obsession. It boasts a ton of impressive benefits, has amazing reviews on Amazon, and – one million bonus points – it's extremely easy to use. Face rollers are officially the most hassle-free, glorious thing to happen to your skin.
Here's the deal with these cult favorite facial tools. The rollers increase blood circulation, promote lymphatic drainage, and reduce puffiness. All you have to do is massage a dollop of serum or moisturizer onto your face and get rolling.
Okay, you know you've hit gold when 90% of Amazon reviewers unanimously agree on a product. This bad boy is made from natural jade and promises to help tone down dark under-eye circles, improve blood circulation, and firm up your skin. It can also be used to relieve neck and back tension, which is a very enticing added bonus.
Is this the dreamiest shade of pink you'll ever see? Yes. Will the tool help rejuvenate your skin, get rid of puffy eyes, and brighten your complexion? According to a bunch of glowing reviews, yup it definitely will.
Prepare for all of the ice, ice, baby. Pop this roller into the freezer for 10-15 minutes and then start rolling. It will apparently calm your skin, fight back against dryness, and relieve fatigue from your eyes. Also, reviewers raved that it's amazing for migraines which is a big, big win.
If you've spent any amount of time stalking celebrities on Instagram (no shame), you will have probably, at some point, run across one of them using this facial tool. It's a cult favorite for actresses and the Amazon reviews are pretty glowing as well. This roller contains 24 massaging stones and promises to temporarily energize and uplift your skin.
This roller not only has all the same healing properties as the ones listed above but it also vibrates. That means you'll be getting a hardcore, thorough facial massage. One reviewer said that it feels like "going to the spa," so sign me up immediately.
Speaking of the spa, this 3D roller will do all the heavy lifting for you. It's waterproof, has a 360 degrees rotate, and is made with kneading technology. Also, according to reviews, you can use the roller all over your body to alleviate tension – making this the cheapest spa day you'll ever have.
Amethyst is known as a protective stone and apparently has the ability to reduce stress, anxiety, and negative thoughts. As an added bonus, it'll help get rid of those pesky under-eye dark circles.
Sign me up for anything that has the word "rosé" in the title. This roller comes with 30 Germanium-infused beads, which will promote all the lymphatic circulation. It can also be used as a skin toner for your upper arms and neck. And, while we're at it, it should definitely be used while you're drinking a glass of rosé. I mean, self-care is self-care.
Now, go get your relaxation on. You skin deserves all the pretty stones.
We are a participant in the Amazon Services LLC Associates Program and may earn fees by linking to Amazon.com and affiliated sites.
This article was originally published on