Facebook Is Finally Banning Anti-Vaccine Ads
by Madison Vanderberg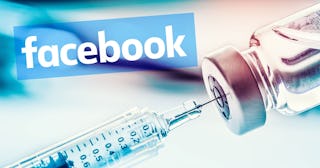 Facebook and MarianVejcik/Getty
Facebook bans ads that promote the anti-vaxx agenda
In an attempt to curb the spread of vaccine misinformation, Facebook — in connection with UNICEF — has decided to ban advertisements that promote the anti-vaxx agenda. In a blog post titled "Supporting Public Health Experts' Vaccine Efforts," Facebook stated that it would globally reject ads "that discourage people from getting a vaccine." The news comes on the heels of the social media giant curbing posts that deny or distort the Holocaust.
The new initiative is all to promote the flu vaccine, which is extremely important this year as the world combats both COVID-19 and the flu, or as some are calling it, the "twindemic." Not only is Facebook adding a "Preventive Health" tab on Facebook Mobile, which will remind you to get a flu vaccine and tell you how to do it, but the second part of promoting vaccine awareness is banning any ad content that discourages people from getting vaccines. In other words, Facebook has a zero-tolerance policy against anti-vaxx ads, and we all know that anti-vaxxers' love spreading misinformation on Facebook.
"Today, we're launching a new global policy that prohibits ads discouraging people from getting vaccinated. We don't want these ads on our platform," Facebook wrote in a statement.
Facebook already bans ads that contain "vaccine hoaxes" but now "if an ad explicitly discourages someone from getting a vaccine, we'll reject it."
Interestingly, Facebook states that "ads that advocate for or against legislation or government policies around vaccines – including a COVID-19 vaccine – are still allowed." So basically, ads that are about government policies regarding vaccines are fine, even if they are negative. For example, CNBC pointed out that Facebook allowed an ad from a state delegate candidate in Virginia who railed against a state policy that supposedly included "forced coronavirus vaccines."
To be clear, Facebook is only banning anti-vaxx advertisements, meaning, those anti-vaxxers in your mom group can still share posts and memes that discourage vaccinations because those aren't ads. But it is a step in the right direction. In general, this whole initiative is because Facebook wants to promote vaccinations, support the flu shot, and hopefully, all the positive vaccine promo will drown out the niche anti-vaxx mentality.
"Vaccines have always been a global priority for UNICEF, and will be even more so as the world continues to battle COVID-19. Building demand for vaccination in communities worldwide is key to saving lives. Our collaboration with Facebook is part of our efforts to address vaccine misinformation and share resonant and reassuring information on vaccination," Facebook's partner at UNICEF also stated in the blog post.
This article was originally published on