Facebook's 'Messenger Kids' App Launches Today, Here's What You Need To Know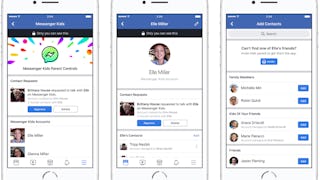 Image via Facebook
Facebook's new Messenger Kids app rolls out today, and here's what parents need to know
There's a reason kids younger than 13 can't create their own social media profiles on Facebook and other major sites: the Children's Online Privacy and Protection Act, or COPPA. The federal law protects kids from exploitation online, and complying with it generally means barring young kids from any kind of social media. Despite that, Facebook is debuting its Messenger Kids app today, a messaging service targeted at kids who are 6-12 years old.
Messenger Kids is a text and video chat app, which will include photo filters and those fun face transformation features that are so popular on apps like Snapchat. Kids can even do group chats, via text or video — and it's all totally monitored by a parent. It will also come with a "library of kid-appropriate and specially chosen GIFs, frames, stickers, masks and drawing tools lets them decorate content and express their personalities," according to the a post on Messenger's Facebook page.
The interface is pretty much the regular Messenger style, but includes all the fun features your kid will love to play with when messaging friends and family.
Facebook is navigating COPPA very carefully with this app, and its numerous safety features prove it. Parents will probably be glad to see that there are all kinds of safeguards that keep kids from talking to strangers, and parents have ultimate control over their kids' contact lists.
For one, kids can't sign up for a Messenger Kids account without linking it to a parent's existing Facebook account. The only information required from the child is a name to put on the new messenger account. The parent with the linked Facebook account also has complete control over who the child can see and communicate with on his or her contact list. Messenger Kids will have no ads or in-app purchases, and Facebook claims the app won't collect any information from the kids who use it.
A video on Facebook's Facebook page (whoa…so meta) further explains the appeal for parents.
Overall, it seems like Facebook has made some real efforts to create a safe space for kids to be online, especially considering how many kids are online anyway. If this keeps some kids off other social media apps that are meant for teens and adults, that's a win.
On the other hand, it's hard to ignore how Facebook is now providing products to kids as young as six years old, and clearly grooming its next generation of users. What do you want to bet that Messenger Kids could eventually include a feature that allows kids to convert their accounts into full Facebook profiles the minute they turn 13?
Messenger Kids is on a limited roll out, and so far, is only available on iOS in the U.S. Facebook says there are plans to expand it to the Amazon App Store and the Google Play Store in the coming months. In the meantime, it'll be interesting to see whether parents will embrace social media specifically targeted toward the youngest possible users.
This article was originally published on