Facebook Messenger Kids Is Finally Adding A Feature Parents Have Been Begging For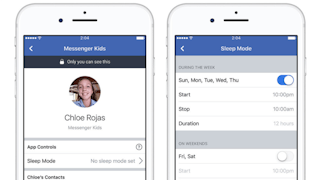 Image via Facebook
Finally, you can lock your kids out of their Facebook Messenger app at bedtime
Facebook's newish messenger app for kids has already faced some pretty harsh criticism. Considering how the social media giant has been under fire for all kinds of privacy violations in recent months, parents are right to be concerned about giving their kids access to an app that could be mapping out their childhoods based on their social interactions.
In a move that may be an attempt to save face amid all that backlash, Facebook is rolling out a new feature for Messenger Kids that's bound to be popular with parents, since they've reportedly been asking for it: You can now set time restrictions on your kids' use of the app. Parents can go into their accounts, where they have control over a lot of the features of their kids' version of the app, and toggle "Sleep mode," which will lock kids out.
According to Facebook, you can also set specific times each day when sleep mode will come on automatically, like bedtime, dinner time or homework time.
"With sleep mode, parents can set a designated off time and each day at the designated time, the app will 'go to sleep'; and not be accessible to kids during those hours," Facebook's product manager, Tarunya Govindarajan, said in a release. "Sleep mode is controlled from the Parent Control center in the parent's Facebook account and the 'off times' can be changed at any time."
Facebook even has instructions for parents on how to toggle and use sleep mode:
This new feature joins a slew of other features touted as kid-friendly for the standalone Messenger Kids app, including parent control over all contacts, no personal information required beyond a name and no ads or in-app purchases. Still, while Facebook claims the Messenger Kids app is compliant with internet privacy laws made to protect kids, the social media site has been fined before for failing to comply with privacy laws. And like any app that stores information online, Facebook can be susceptible to data breaches that may target your kids' information.
This new feature will be a helpful one for many parents, but it definitely doesn't quell the major privacy concerns that still surround Messenger Kids.