Facebook Just Unveiled A New Dating Service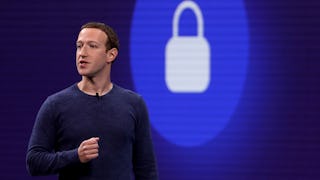 Image via Justin Sullivan/Getty Images
Facebook launching online dating service
You'll be able to find your next romantic partner on Facebook in the future. The social media giant announced on Tuesday its plans for a dating service during its annual conference.
"This is going to be for building real long-term relationships, not hookups," Facebook CEO Mark Zuckerberg said during the announcement. Um, okay, there is a lot to unpack with that statement. The two most obvious being: why and how does the company plan on ensuring relationships formed via Facebook are long-term? And why would a tech company care? Since Facebook had a lot of new features to discuss, Zuckerberg didn't clarify his comments or release too much additional information during his presentation. But following it, the company shared some details on the new dating service.
"We're building a feature for dating and relationships within the Facebook app. People already use Facebook to meet new people, and we want to make that experience better," the company shared on its blog. It's a good point. We spend so much time on Facebook that there are now countless think pieces on why we need social media breaks. The blog post went on to describe what the dating tool might entail: "People will be able to create a dating profile that is separate from their Facebook profile — and potential matches will be recommended based on dating preferences, things in common, and mutual friends. They'll have the option to discover others with similar interests through their Groups or Events."
It'll be interesting to see how the experiment works out. I tried Match.com more than 10 years ago when almost nobody trusted online dating and those of us who were brave enough to try it typically lied about it since no one else was into it. And I've always considered Facebook the social media tool to keep track of friends and family. But as we move more of our lives online, it makes sense that one platform would host most of our online social interactions. Plus, there is good money in online dating. About $3 billion in revenue is made annually in online dating, Mashable reported. And that is just in the United States.
Although the company didn't release many details about the dating service, they did say: "what people do within the dating feature will not be shown to their friends." So we don't have to worry about grandma or our boss seeing our dating deets. Facebook will start testing the new service later this year. It's unclear when it will be available to all users so don't delete Tinder just yet.