Facebook Is 'Pausing' Work On Instagram Kids App After Backlash
by Christina Marfice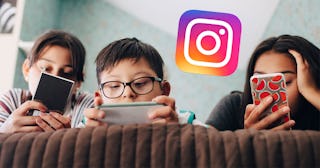 Maskot/GETTY and Instagram
Facebook is pumping the brakes on its Instagram app for younger users, saying information leaked before the company had a solid plan for what it wanted to create
Facebook has been hard at work the last few years rolling out products aimed at a younger generation of users — from Portal, its video messaging hardware that was marketed heavily as a way for young kids to stay in touch with family, to Messenger Kids, a pared-down version of the site's messaging app built with safeguards that allowed parents to supervise their kids' online messages. But now, the company is pressing pause on its plans for a version of Instagram aimed at younger users, after widespread backlash.
Instagram chief Adam Mosseri explained in a blog post that while the idea is being put on the backburner, the company will continue to work on its idea for an Instagram app that's marketed toward users under 13. In a series of tweets, Mosseri blamed the backlash on media reports and people not understanding the true purpose of the app.
"Us pausing doesn't change the status quo. U13s are getting phones, misrepresenting their age, and downloading 13+ apps. YouTube and TikTok saw this happening and made u13 products, we were doing the same," he wrote. "I have to believe parents would prefer the option for their children to use an age-appropriate version of Instagram – that gives them oversight – than the alternative. But I'm not here to downplay their concerns, we have to get this right."
Mosseri claimed that the app was never meant for very young users, but to give tweens (ages 10-12, he wrote) an age-appropriate way to participate in photo sharing online.
However, his statements come after the Wall Street Journal published a number of damning stories about Instagram Kids, including that Facebook had its own internal research that showed that apps like Instagram made body image issues worse for young users, especially girls. The app was also widely criticized by advocacy groups who say that while Facebook claims it's trying to keep kids safe on its apps, this is a thinly veiled attempt to expand marketing to a new, younger demographic, regardless of how social media might harm those younger users.
"The project leaked way before we knew what it would be. People feared the worst, and we had few answers at that stage. Recent WSJ reporting caused even greater concern. It's clear we need to take more time on this," Mosseri wrote. "Parental supervision was a big part of what we were already building for u13s, and in the coming months we're going to expand opt-in parental supervision to teen accounts on Instagram, giving parents more oversight of their teen's experiences on our app."