Son Posts An Obnoxious Meme, Mom Trolls Him In The Best Way
by Jerriann Sullivan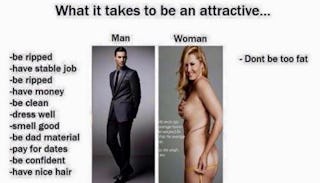 Mom shames son on his Facebook page for his ridiculous meme
A Facebook user who posted an obnoxious men's rights meme was probably feeling quite smug until he read the brilliant replies from an unlikely troll – his mom.
Instead of writing thoughtful articles or heartfelt columns that might better explain the men's rights movement, the meninism clan communicates mostly in misspelled and inaccurate memes on Reddit and a Facebook page titled Meninist, which is where the post was originally shared. It says that for men to be considered attractive, they must be ripped, clean and possess nice hair, a stable job, and money. But women, those lucky bitches, are considered attractive if they aren't "too fat."
The meninist's mom, who is still anonymous, made ladies say "hell yeah" when she berated her son on his Facebook wall. And she did not hold back. Thankfully, Twitter user Common White Girl caught the fantastic comments from mom and posted some screen shots.
Among our favorites was "For your wedding day…this…will be brought up FOREVER," showing that this mom is serious about teaching her son how not to be a douchebag.
The men's right movement is a relatively new brand of activism popular among men who simultaneously can't get a date and have no concept of history. They believe men are being oppressed because women (and plenty of men) are using the internet to share their dislike of sexual assault and the gender wage gap. "Feminism is ruining our sons," they shout on Twitter when you share any article that is pro women. The inability of certain men to understand misogyny prompted some outlets to bring in moms, Mic reported. Video network Scene made men and boys watch clips of their moms being catcalled so they could better understand street harassment.
This mom's hilarious responses show that she was furious her son hadn't already learned these basic life lessons. "Your proctologist called," she wrote, "he found your head." We assumed most men's rights activists lived in their mom's basements, and this is a great reminder that they shouldn't piss off their landlord.
This article was originally published on