'Snowface' Is Your New Favorite Holiday Party Game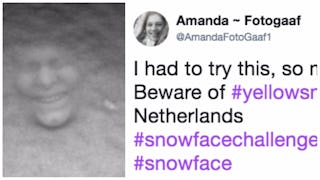 Image via Twitter
Party people everywhere, get ready for some #Snowface
The winter season can sometimes be a real drag for those who live in colder climates. Snowy, icy roads and the fact that it gets dark out before most early birds eat dinner kind of puts a damper on fun activities. Until now. Because there's a new winter trend that's sure to become a party hit. Behold: The #Snowface Challenge.
"Snowface" is exactly what it sounds like it is: putting your face into a big, untouched pile of freshly fallen snow. It sounds dumb, right? WRONG. SO WRONG. All you have to do is watch this video — you'll be ready to gather a bunch of your friends and relatives and laugh your asses off, because this has major party game potential. Forget Prosecco Pong, this is the perfect game for a cold night in.
The video opens with a group of grown adults having a blast, as one of the women in the video braces herself before putting her face into a smooth, giant pile of powdery snow.
Now when I first viewed this, I admit I thought for sure this would result in nothing more than a perfectly head-sized dent in the snow. Oh, how very, very wrong I was.
JUST LOOK AT THAT! LOOK AT IT.
It's a perfect face! It looks like some weird, Snow Muppet ready to come to life and ask for a corncob pipe and two eyes made out of coal. Who knew this happened when you place your face in a fluffy mold of snow? And why is it so damn funny?
OMG. WHY ARE THESE FACES SO PERFECT.
People on Twitter are also taking the #SnowfaceChallenge and even getting the kids involved:
Some people are giving the challenge all they've got:
All you have to do is take a picture of your own #Snowface with the flash on, and voilà! If you live somewhere where there's a white winter, consider yourself lucky. Because #Snowface.
This article was originally published on