Hilarious Birth Announcement Is Proof That Life Doesn't Always Go As Planned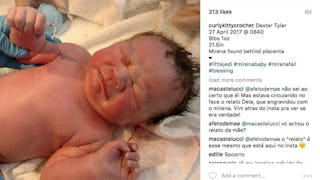 Image via Lucy Heillein/Instagram
This mom took it seriously in stride when her baby — and her failed IUD — came out at the same time
Well, that didn't work.
RELATED: What Is Sex With An IUD Like? Is Rough Sex OK? All Your Pressing Questions, Answered
Mirena IUDs are over 99 percent effective at preventing pregnancy. But over 99 percent still isn't 100 percent, and one mom's hilarious birth announcement is proof that there's simply always a chance that things won't go according to plan.
Alabama mom Lucy Hellein had her Mirena inserted last August, she told Metro.co.uk. Imagine her surprise when, four months later, she learned she was pregnant.
"This was actually my third Mirena; my first two worked great," she said. "I found out I was pregnant in December and I'll admit I was scared because of the Mirena. I assumed I was only a few weeks along, but the ultrasound confirmed that I was already 18 weeks along. My Mirena was nowhere to be found on ultrasound so my OB assumed that it had fallen out, but I wasn't convinced."
As it turned out, the IUD had just migrated up into Hellein's uterus, and was still there behind the placenta. When her baby boy, Dexter, was born via C-section, the doctor recovered the wandering Mirena, too. For her birth announcement, Hellein hilariously stuck the IUD in Dexter's hand and snapped a photo, which she hashtagged "#mirenafail."
Even though Dexter wasn't planned, Hellein and her partner, who already shared kids, have welcomed him with open arms.
"Dexter was definitely meant to be," she said. "His original due date was May 4th and even the doctor said, 'The force was strong with this one.'"
She added, "Although he wasn't planned, my family and I feel incredibly blessed."
Still, though, Hellein is taking even more drastic steps to "shut down her baby factory," as she puts it. After Dexter was born, she had one of her Fallopian tubes removed, ensuring she'll never be part of Mirena's <1 percent again.
This article was originally published on