Need To Fake A Pregnancy? This Website Will Totally Help You Out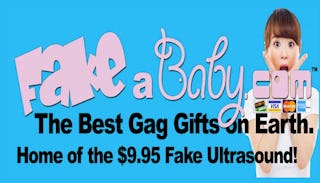 Fake-A-Baby.com claims to be home of the "best gag gifts on earth." It's specialty item appears to be the "$9.95 Fake Ultrasound." The site also offers items like fake prosthetic bellies, fake proof of pregnancy documents, and something the site calls "fake pregnant boobs." Yes, this is real.
When one thinks of a "gag gift," they generally don't think of a $300 prosthetic belly. That's quite an investment for a joke. And for a town of people duped by a young woman faking a pregnancy, it definitely wasn't a joke.
A teenage girl in Michigan pretended for months that she was pregnant with triplets, using products she got on fakeababy.com. Look at some of the disturbing "gag gifts" you can purchase on this site:
Fake proof of pregnancy document? Oh, that's hilarious. And by "hilarious," I mean "truly terrible." The Washington Post reports:
"As word of her impending good fortune spread on Facebook — through a group she joined called 'Moms of Triplets' — gifts started "pouring in," according to the station. A church got involved, a nonprofit group in Dearborn chipped in and relatives threw her a baby shower."
The girl duped her 16-year-old boyfriend into believing he was about to become a father of three. He told a local news station, "I started looking for jobs the best I could." The story started to unravel when the boy's mother tried to locate the girl's doctor. Of course she couldn't, because there was no doctor. Then there was the small issue with her being pregnant for 10 months with no baby in sight. What finally blew her cover was a member of the "moms of triplets" Facebook page somehow recognizing the photo of a fake ultrasound. The local police are involved in the case, but there are no pending charges because no one has come forward to claim fraud. No one is asking for their money back.
The Washington Post points out that this isn't the first time the website has been in the news. In 2013 a correctional officer was charged with abuse after he discovered his girlfriend lied about being pregnant using an ultrasound from the site. The judge threw the case out, citing the victim wasn't a credible witness.
The site's creator posted a message recently, due to all the backlash from the recent faking a baby incident:
"I personally want to ensure everyone this website is very obviously intended for ENTERTAINMENT PURPOSES ONLY…. We do not condone any activity, imagined or real other than using our products for FUN! For gag gifts at parties, for bringing laughter and joy to your friends and family. Please remember that when you are considering your purchase."
Yup. Nothing brings laughter and joy to your friends and family like a fake ultrasound and proof of pregnancy document. It's also hard to believe his statement when you see some of the site's graphics (which have since been removed) Jezebel unearthed these gems:
I guess if there's a market for it, they'll stay in business. But this site is just… yuck.
This article was originally published on