Traveling Can Be Hard For Breastfeeding Moms, But This Could Help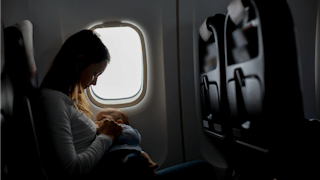 tatyana_tomsickova/Getty
Right now there are more than 1 million people traveling by airplane. It's estimated that every day, an average of nearly 10,000 airplanes are in the sky at any given time. For millions of Americans, air travel is an integral part of our lives. But as many families have experienced firsthand, airport travel can be a challenge for breastfeeding mothers.
Traveling can be a difficult enough experience for mothers. A lack of breastfeeding and pumping spaces in airports should not be an additional obstacle they face. That's why I've introduced – and the U.S. House of Representatives passed – the Friendly Airports for Mothers (FAM) Act, to address this problem for the millions of traveling moms nationwide.
Despite the necessity of air travel, many airports still lack facilities to assist mothers on the go who need to pump or want to nurse their children in privacy. While breastfeeding in public is legal in every state, some women may want to pump or breastfeed in a more private location, and they should have that option.
This leaves many new mothers with the only option for privacy in a crowded, bustling airport – which is often a public restroom stall. As we can all attest, public restrooms are often unhygienic, and it should not have to be an option for our traveling mothers and their nursing babies.
The FAM Act would require all medium and large airports to maintain a "lactation area" in each passenger terminal in order to provide a private and hygienic location for mothers to breastfeed their children.
This location must meet five basic requirements: (1) is shielded from view and free from intrusion from the public; (2) has a door that can be locked; (3) includes a place to sit, a table, or other flat surface, and an electrical outlet; (4) is readily accessible to and usable by individuals with disabilities; and (5) is not located in a restroom. I believe these requirements will help establish a comfortable, clean, and safe environment for mothers to nurse their children while traveling.
This bill was originally championed in the U.S. House of Representatives by then-Representative Tammy Duckworth of Illinois, who was elected to the Senate in 2016 and has continued to be a voice for new mothers nationwide. Just recently, Senator Duckworth became the first Senator to give birth while in office.
Shortly after, she championed a resolution that allows Senators to bring their children (aged 1 year and younger) onto the Senate floor, enabling her to breastfeed during votes if necessary. I am thankful for Senator Duckworth's continued leadership and passion in advocating for America's moms.
Earlier this year, I led FAM Act's advocacy in the House. FAM Act passed in April as part of the Federal Aviation Administration Reauthorization Act. We are hopeful the Senate will follow suit. In a modern and dynamic world, the ability to travel is vital to our ability to work and stay connected with friends and family. If signed into law, the FAM Act would implement easily achievable measures that would provide more options to mothers.
This article was originally published on