Scenes From 'Families Belong Together' Rallies Will Remind You How Strong We Are Together
by Cassandra Stone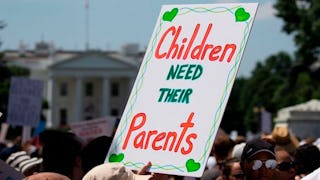 Image via ALEX EDELMAN/AFP/Getty Images
Families Belong Together rallies are being held all over the U.S. — and the turnout is incredible
Tens of thousands of people are participating in over 600 Families Belong Together rallies all over the United States today. The rallies and marches are in support of releasing and reuniting immigrant families who are victims of Trump's recent zero-tolerance immigration policy.
The images coming out of the rallies today are simply stunning — and a powerful reminder of how strong we are when we come together and use our voices.
Mothers, fathers, children, and humans on the right side of history are taking to the streets to let their voices be heard — we won't stand for the continued separation of migrant families or the inhumane way they are being caged in unclean detention centers and sweltering shelters.
From New York City to the White House, people everywhere are demanding better for these families.
Since election night in 2016, it seems like so many of us have been fighting — for women's healthcare, for gun-free schools for our children, for the equal rights of the LGBTQ community, and now for thousands of migrant families who are torn apart.
But this is why there is no quitting, no getting "tired." As President Obama recently told us, we've got to stay loud and active within our communities to make sure our voices are being heard — it's the only way things will change. By marching, organizing, calling our representatives, and voting.
The Families Belong Together rallies are protesting for an end to family separations, but also to reunite 2,000+ the families currently being held in separate facilities all across the U.S. The ACLU says they'll keep fighting until all children are reunited with their parents immediately after their court orders are issued — with no indefinite jailing of parents and children.
Protecting families from being caged in unsanitary conditions and ripping infants from their mothers is something that shouldn't be a partisan issue — it's fucking humanity at stake here. And it's unbelievable that anyone — especially parents, but also just ANYONE — could be in favor of punishing human beings this way.
If you're unable to march in your city today, you can donate to Families Belong Together here. We've got to fight for these families until every last one of them is reunited — and make sure history never repeats itself this way again.