Heartbreaking Obit For Bullied Teen: 'In Lieu Of Flowers, Be Kind To One Another'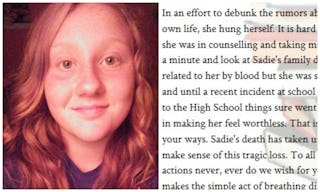 Image via Facebook/Sadie Riggs
Another senseless tragedy that could have been avoided
A Pennsylvania family is grieving after the tragic loss of their 15-year-old daughter, Sadie, who died by suicide last week. Her family, though devastated, decided to make a statement against the bullies they feel contributed to her death by asking all of us to be a little kinder to each other.
Sadie, a softball player who loved "reading, drawing and music," was a member of the Solid Rock Christian Fellowship Church in Bedford, Pennsylvania. She lived with her aunt at the time of her death and when you read the long list of parents, siblings, grandparents and extended family she was survived by, it hits you just how heartbreaking the death of someone her age really is.
"In an effort to debunk the rumors about Sadie's death we would like to share this information. Yes, Sadie took her own life, she hung herself," her obituary on the Louis Geisel Funeral Home website read. "Sadie was seeking help, she was in counselling and taking medication, but it was all too much for such a young soul to live with."
Her obituary explains that, although Sadie had a tough life, those in her life understood how lucky they were to know her. "Until a recent incident at school she handled everything life served her," her family said. "For a young lady so excited about going to the High School things sure went terribly wrong for her."
That's when her obituary cuts to the heart of the suspected reason for her suicide. "For the bullies involved, please know you were effective in making her feel worthless. That is all between you and God now."
The obituary continues with yet another message for her bullies: "To all the bullies out there, I just want you to know that as much as we despise your actions never, ever do we wish for you to feel the paralyzing pain that engulfs our bodies, a pain so severe that it makes the simple act of breathing difficult or the guilt that leaves us wondering what we could have done differently-or that struggle to remember the last words we spoke…Our hearts are beyond broken."
According to the CDC, suicide is the third leading cause of death among young people, resulting in about 4,400 deaths per year. Bullying victims are between 2 to 9 times more likely to consider suicide than non-victims, according to studies by Yale University.
According to the CDC, understanding the relationship between bullying and suicide is important in that it "raises awareness about the serious harm that bullying does to all youth involved in bullying in any way," but framing the discussion that bullying is the single cause of suicide can be dangerous. The CDC warns that it can "perpetuate the false notion that suicide is a natural response to being bullied which has the dangerous potential to normalize the response."
Unlike bullies of our generation, there is no escaping bullies today. Cyberbullying reaches kids anywhere, at home or in places where our kids should feel safe. It is widespread and obstinate. It is not restricted by school hours, location, or physical strength.
"Sadie, it was a privilege to have you in our lives and we will always love you. May you find peace in the arms of God and may we all be kind to one another," the family ends the obituary.
"In lieu of flowers, the family of Sadie ask that you be kind to one another."