These Giant 'Family Beds' Are A Co-Sleepers' Dream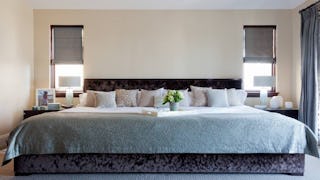 Image via The Ace Company
Finally a bed that accommodates an entire family and offers a good night's sleep
Co-sleeping families, raise your hands. It can be rough, right? A kid foot to the groin, little hands smacking adult faces at 2am — in a typical bed, it's far from ideal. If you've ever let your kids sleep with you for one night or a hundred, you know it can be a rather cramped (and unintentionally violent) experience.
That is, until now.
RELATED: The Best Bassinets and Co-Sleepers to Keep Your Newborn Close – Fatherly
Say adios to your full, queen, or king mattress, parents — there's a new sheriff in town. Sure, you may have to knock down a bedroom wall to make room for it, but dammit if it won't be worth the trouble. Bed designers Taylor & Wells have created "the Family Bed XL," an 84" x 144" x 14″ mattress that's equivalent to two (yes two) California King mattresses combined.
According to their site, they use "luxurious materials that provide the perfect sleeping experience," and include "cooling gels and supportive memory foams allowing the maximum comfort available." But enough about that, look how much room you'd have to roll around.
What if you're not a family that co-sleeps but still want in on this action? That's ok, here's a picture of an older couple who are still together because they know the secret to a happy marriage is not remotely touching each other while they're sleeping:
The mattress, which costs $2,300 (before factoring in bed frames or adjustable-base upgrades), is already sold out online because that's just the way things go, but with such a big market, it'll hopefully be back in stock in no time.
My husband and I used to let our youngest sleep with us from time to time and have now graduated to not one, but two dogs over 70 pounds each who sleep with us nightly and I'm not exaggerating when I say this bed would be the answer to all our prayers.
Taylor & Wells aren't the only geniuses to come up with these XXXXL mattresses. Ace Collection also has beds available in either nine or 12 feet, so you can get all three kids, two dogs, several cats, and a couple neighbors and still have room left over to stretch to your heart's content.
If you're thinking, how does one procure a sheet set large enough to accommodate these puppies, have no fear. Both companies sell their own custom sets, which are around $250 but hey, can you really put a price on a good night's sleep?
This article was originally published on