My Family Does A Big Christmas, And I'm So Over It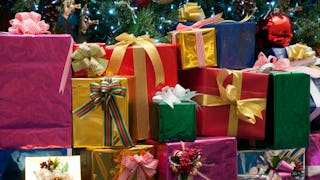 Karin de Mamiel/Getty
Let me start by saying, I come from a fairly regular family. Growing up, there were no extravagant trips to Europe. No private school educations. No fancy designer clothes in my closet.
My parents prided themselves on raising me and my siblings with a strong work ethic and modest expectations. We were taught to work hard for what we needed and to be grateful for what we had. My mom shopped the clearance racks and taught me how to game the Kohl's cash system like a pro. She was thrifty before thrifty was a thing.
But all that goes out the window when it comes to the holidays, because my family seems to do Christmas one way and one way only – BIG.
It isn't just my parents who do Christmas big; it's my extended family and in-laws too. There are presents from grandparents and aunts and uncles and cousins of cousins of cousins. In fact, a few years ago, we couldn't even get home with all of the goodies in one trip. Our van was nearly bursting with clothes and toys and a shit ton of knick-knacks that wouldn't even fit in our small house. It literally took weeks to get it all put away.
In fact, some years, there have been so many presents under the tree that it almost looks like some kind of viral image on social media.
OK, that's an exaggeration, but not much.
So yeah, my family does Christmas big.
And you know what?
I'm totally over it.
It's not that I'm not grateful. Because I am. VERY grateful.
It's not even that I'm worried about my kids being spoiled. Because every other day of the year, they aren't.
And it's not that I'm some kind of Grinch or Holiday Scrooge. I love the magic of the holidays and all feel-good tingles that come along with giving and getting gifts.
But.
Here's the thing…
I'm a minimalist at heart. Or a wannabe minimalist anyway. Clutter and excess stuff gives me serious anxiety. Just looking at that photo above makes my chest feel tight and my heart race. I literally cannot handle all the extra stuff – extra things to buy, extra chores, extra things to put away, extra things to rearrange, all of it.
By the end of the holidays, I'm not feeling particularly jolly. In fact, I'm feeling a good rage cleaning and purge coming on.
But I can't just blame it on my extended family either. Each year it seems that I tell myself to "tone it down" and each year, I'm buying extra holiday knickknacks and stocking stuffers in the discount aisles. Or I'm clicking on that last-minute sale item that showed up in my newsfeed. And then when my husband and I compare notes about what we've each gotten for the kids we realize – holy shit! – we did it again. We've gone overboard. Sigh…
We're learning though, and it's getting better. We don't visit my extended family anymore now that everyone's families have grown and coordinating holiday parties has become way too complicated. My parents have been forced to simplify their lives for a variety of reasons, and my mom doesn't have the time to scrounge through the clearance racks and sale bins like she used to. And we have all truly realized the virtues of experiences over gifts.
So the holidays are just as generous and magical, as ever. Just with a lot less wrapping paper and "stuff" under the tree. And, for me, that is the greatest gift of all.
This article was originally published on