This Mom And Her 6 Sons Donated 17 Feet Of Hair To Kids In Need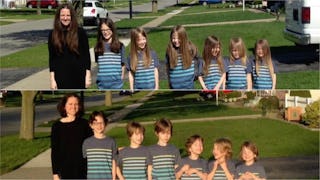 Via Phoebe Kannisto
"They hope it inspires more people to donate their hair."
For Phoebe Kannisto and her kids, charity is truly a family affair — this week, Kannisto and her six sons ended years of growing out their locks by donating all of it to Children with Hair Loss, an organization that provides hair replacements to children suffering from medical hair loss.
Kannisto participated, as did 10-year-old Andre; 8-year-old twins Silas and Emerson; and 5-year-old triplets Herbie, Reed and Dexter. Kannisto's daughter, 2-year-old Marah Taylor, didn't have enough hair to donate, so she looked on "in awe" as her brothers got their hair cut, Kannisto said.
The decision to donate was a personal one for the entire Kannisto family.
"Three years ago a friend of mine lost her son to cancer," Kannisto, who has been donating hair off an on since she was a teenager, told Scary Mommy. "On the first anniversary of his passing, my three oldest sons donated their hair in his memory."
That inspired the younger kids in the brood, so two years later, more of the family joined in.
"[The younger boys] were inspired by my older sons, so they all decided to do it together," Kannisto explained.
Their selfless decision didn't come without hurdles, though.
"The older boys were picked on," Kannisto said. "Kids would tease them and call them girls."
She added, "They explained hair donation and what it meant and why they had long hair. Sometimes kids understood and sometimes not. When it was adults picking on them and making rude comments, they always seemed to be a bit ashamed when the boys explained their long hair."
The 17 feet of hair the Kannisto family donated on Monday serves as a lesson to those bullies, Kannisto said.
"They're showing them that there is nothing anyone can say to keep them from achieving their goals," she explained. "All those hurtful words will be forgotten because of the overwhelming positive response they've received for their selfless action."
Now that their story is going viral, Kannisto said all of her kids are delighted by the attention, but even more so by the opportunity to educate others about the importance of donating hair.
"My triplets, being 5, were so excited to see themselves on TV. Their preschool teacher played it at school for the entire class. She said they were beaming," Kannisto said. "One of their classmates is already planing to donate her hair because she was inspired by them. My older boys think it's amazing. They hope it inspires more people to donate their hair. They hope that more people will know about hair donation now. They see this as an opportunity to educate."