This Family Is Getting Evicted Because Their Child With Special Needs Is Too Loud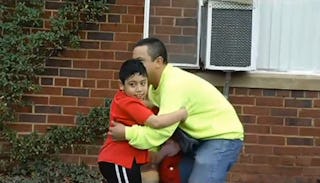 This family claims they're being evicted from their apartment because their 10-year-old has special needs.
A Virginia family of four has until the end of the month to vacate their apartment, and the reason is absolutely despicable. They're allegedly being evicted because the property manager thinks their son who has special needs is too loud and disruptive.
Deysi and Francisco Diaz share an apartment with their two kids, Elder and Brianna. Elder is 10 years old, and according to NBC Washington, has developmental disabilities and seizures resulting from being beaten by a daycare worker when he was 18 months old. The Diaz family say they explained Elder's needs to apartment management when they moved in, and even provided a letter from his pediatrician, but that's done nothing to stop the unfair treatment they've received from their property manager.
The Diaz family lives above their property manager, and she allegedly says Elder's constant singing and shouting disturbs her. She's having the family evicted for noise disturbances, and won't even provide them with a reference to help them find a new place. According to the Diazes, her only attempt at a compromise was offering them a smaller apartment for $400 more per month — an amount they say they can't afford. Francisco and Deyzi tell NBC they're worried they'll have to move into a homeless shelter.
So far, the property manager has declined to comment on the eviction and won't go into detail about the reasons for her decision. Legally, she isn't required to give an explanation, but to evict a family with a disabled child and refuse to provide them with a reference to find a new place to live is just disgusting. I'm not sure there's any excuse in the world that could justify her actions.
It seems ridiculous that this property manager can't work together with the family to find a solution to this issue. Why can't the property manager move to a different apartment? Or, why can't they put the family on a waitlist for the next available apartment in their price range? Or, hell, why can't she negotiate with them on the price of a different apartment? Surely, there must be a better solution than just throwing them out.
Many have commented on the NBC article to say we don't have the property manager's side of the story and there could be more reasons behind the eviction. While that may be true, treating people this way is never acceptable. Kids with disabilities don't make noise or yell because they enjoy being disruptive. They are just expressing themselves.
In an ideal world, every family would own a home with plenty of space and privacy, and never have to worry about complaints from other people about how they get through their day-to-day lives. Unfortunately, that's just not possible in every situation. The last thing this family needs is for someone to remove their ability to rent an apartment too.