5 Road Trip Essentials For Your Family's Enjoyment And Your Sanity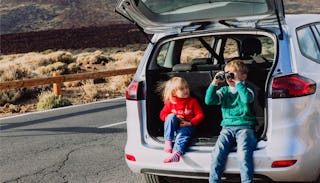 NadyaEugene / Shutterstock
Vacations, ahoy! Spring break is around the corner, which means lots of us are gearing up for some extended time in the car. If your fight-or-flight instincts kicked in at the mere suggestion of a road trip, fear not! Here are a few items that can make the trip easier on your kids, thus making it easier on you. We care about you, fellow mom.
Download a few movies or shows straight from Netflix onto your tablet, then hook it to the back of your seat so everyone in the back can view. No worrying about scratched DVDs, and you can get a variety of programs, so there is something for each kid.
Don't want to listen to all the glorious entertainment you procured for your offspring? Headphones for everyone! These can connect together so multiple kids can listen at the same time. All while you binge-listen to S-Town up front. Paradise for the whole family. As paradise-y as a long car ride can be.
If I had a nickel every time my kids complained about being bored in the car before we even made it out of our neighborhood, I could buy dozens of these trays in nickels. Load them up with paper, crayons, and stickers. They're even great for playing with cars, Legos, or small dolls. This also gives kids a flat surface to eat on.
I actually keep a couple of these on hand in my car. They're perfect if we need to swing through a drive-thru. I can toss the fries and such in there, and my kids won't be spilling the bags all over the backseat. I can also squeeze ketchup or dipping sauces in one of the little sections and not have to worry about dealing with a slimy mess when we reach our destination. You can also go the healthy route and pre-pack a meal in these. If you're in for an extra-long trip, you can pack multiple meals.
Get their minds off of who is sitting too close to whom by redirecting your kids' focus to a scavenger hunt. They'll either work together or have a backseat cage fight over who saw what first. Hopefully just work together. Yeah, I'm sure they'll work together.
There's really no need for your family excursion to feel like a journey into Mad Max (I have never seen Mad Max). May the roads be clear and your bathroom breaks infrequent. Most importantly, may you all make it to your destination with minimal threats of turning this car around.
This post contains affiliate links, which means we receive a small portion of the sale if you make a purchase using this link.