Family Searches For Bone Marrow Donor To Save 1-Year-Old's Life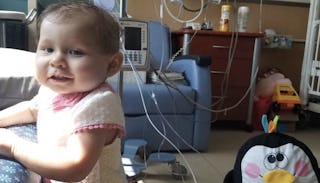 Image via Roxie Meza
Emilie needs a match by the end of the month
Parents would do anything to keep their kids safe and healthy and that's why this family's desperate search for a bone marrow donor for their daughter is so heart-wrenching. Fortunately, people are pulling out all the stops to help this little one find her match.
Roxie Meza is mom to Emilie, who just celebrated her first birthday last week at Johns Hopkins All Children's Hospital in St. Petersburg. According to ABC Action News, the little girl has acute myeloid leukemia, and time is of the essence.
Emilie needs a bone marrow transplant as soon as possible and sadly, her parents are only half matches. "A lot of people ask why don't they take your half and his half and put it together to make a whole for Emilie, but it's not that simple," says Roxie.
"We have good days. We have bad days," the mom explains. They spend most of their time at the hospital where Emilie is receiving care. She was diagnosed at nine months old and having a child that young with a serious illness is just as heart-breaking as you'd imagine. "It's very hard because sometimes there's nothing you can do. There's nothing you can do and Emilie is so little. She can't tell me what she's feeling. She can't tell me mom my bones hurt."
And that's where everyone else can swoop in to try and help. Getting swabbed to find out if you're a bone marrow match for someone in need takes hardly any time at all, and the end result could be literally saving someone's life.
The Meza family has a lot of community support and several bone marrow drives have happened and are upcoming. Here are details for the next few drives:
Sunday, April 9 at:
2650 Gulf Drive S in Bradenton Beach (Coquina Beach) from 10:00 a.m. to 4:00 p.m.
508 10th St E in Palmetto (Walmart) from 9:00 a.m. to whenever kits run out
Monday, April 10 at 600 Missouri Ave N, Largo (Dunkin' Donuts) from 11:00 a.m. to 1:00 p.m.
Saturday, April 15 at 298 Havendale Blvd. in Auburndale (Southern Technical College) from 9:00 a.m. to 1:00 p.m.
Scary Mommy had a chance to chat with Roxie and she wants to stress the importance of being at the bone marrow drives if you're able and if not, joining the registry at join.bethematch.org/fl (she says this link will ensure the quickest processing).
"There are so many children and families in need and in search of a bone marrow match for a transplant. Bone marrow doesn't go by who is next in line for a transplant, it goes by who you match," she explains. Roxie says finding a match is very difficult and that's why it's important for as many people to join the registry as possible.
The doctors will be checking the registry for Emilie at the end of this month and if there are no matches, her mom says they'll have to use her husband, who's only a half match. She tells us this isn't ideal, as Emilie's body could attack the half that doesn't match her cells. A 100% match is the best chance for Emilie to get well and recover quickly.
The baby will start her third chemo round this Wednesday, which means a 5-6 week hospital stay. By June, Roxie says Emilie will need the transplant regardless of whether a perfect match has been found, so that's why it's so crucial that everything possible is done to find the baby's perfect match.
In the meantime, the family is hopeful. "We will be updating and just praying for this to help us and motivate people to help save my baby or another life in need."
"As a mom you have to keep it together. You have to be strong all the time, but I don't want to be strong. I want to be home. I want to be home with my baby in her crib."
Exactly where she belongs. Please consider joining the registry to help those in need of a donor.
This article was originally published on