Family That's Been Tweeting From Aleppo Posts Heartbreaking Goodbye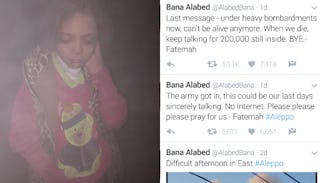 Images via Twitter.
Aleppo family tweets messages as their home is destroyed
A family of four in Aleppo has been tweeting about their life as war rages on around them. This weekend they posted a series of heartbreaking messages on the social media platform.
Fatemah al-Abed and her 7-year-old daughter, Bana, have shared images, videos, and words from their life inside Aleppo, Syria. Occasionally Bana's two brothers make an appearance on the feed as well. The family posted haunting messages on Saturday and Sunday.
You can hear children screaming briefly in the above video the family posted of dust trailing up after a presumed bomb blast. "Please save us right now. -Bana," the captions reads. Several more gut-wrenching messages were posted including one on Friday that Fatimah wrote begging for humanitarian aid. "Allow in food. Just allow, just…. Please allow it for the thousands starving here. Why is it a problem?" the tweet read.
Heavy bombing hit the family again on Sunday and they posted a farewell message that read, "Last message — under heavy bombardments now, can't be alive anymore," a tweet, seemingly posted by Fatemah, read. "When we die, keep talking for 200,000 still inside. BYE."
Despite the unimaginable horror, Bana and her family managed to survive the most recent attacks on their city. "Tonight we have no house, it's bombed & I got in rubble. I saw deaths and I almost died. – Bana," a recent tweet read.
As rebel groups fight the Syrian government, civilians are trying to live in Syria despite the airstrikes and complete lack of resources. Countless schools and hospitals have been destroyed since the civil war started five years ago. Last week at least 92 people were killed over a few days during airstrikes, according to the UK-based Syrian Observatory for Human Rights. "People went to sleep to the sound of bombardment and awoke to the sound of bombardment," explained Rami Abdel Rahman, head of the Observatory. "There's barely a neighborhood that has been spared. People don't leave their homes."
Bana and her family now have nowhere safe to rest. Their home, schools, and hospitals were destroyed. "We are on the run as many people killed right now in heavy bombardments. We are fighting for our lives. still with you," Fatemah tweeted Sunday night. Fatemah often tweeted about her children's hobbies – reading the Harry Potter books, coloring – between snippets of the war. But the chaos from air strikes, barrel bombs, and artillery rounds shows what life is really like for many Syrians.
More than 500,000 kids are living under siege in Syria, the United Nations Children's Fund reported. "Children are being killed and injured, too afraid to go to school or even play, surviving with little food and hardly any medicine," UNICEF executive director Anthony Lake explained. "This is no way to live — and too many are dying."
This article was originally published on