Family Time At A Distance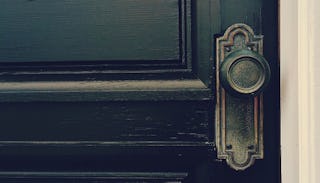 Wokandapix / Pixabay
I attended university and grad school almost 700 miles from home. My husband enrolled in the same grad school, 400 miles from his tight-knit family. Neither of us ever expected to stay that far away from our families, but we met and got married. I dropped out of my Ph.D. program, and then we decided we wanted kids — all while he was still teaching and working on his doctorate. So we bought a house. Roots were planted. And we now live, permanently, in a small southern city hundreds of miles from our parents.
We also now we have two extended families engaged in an ugly tug-of-war over our limited free time.
At first, we tried to please everyone. Before we had kids, Christmas went like this: We drove to my parents' house and stayed for a week beforehand. I helped my mother bake traditional pastries. This led up to the sacred Slovak dinner on Christmas Eve, where wafers were broken, a seat left for God, and dishes served one at a time. Then we drank my father's liquor and staggered to Midnight Mass. We woke at 6 am, packed, said goodbye, and drove 350 miles on Christmas Day — with nothing open, no food stops — to my husband's family's house. There, we hustled out of the car and rushed to open presents with the whole family before tucking into a hobbit-worthy dinner purchased from the local food store. All the while, back at home, our dogs were kenneled, our house empty, our Christmas tree morphing slowly into a fire hazard. We dreaded the holiday season.
Once we had kids, I vowed to do what I needed, regardless of anyone else's traditions. I made rules. I didn't want anyone at my oldest son's birth, so I said that the families could come down, one at a time, five days later. My family came first. They came, they cooed, they left. My husband's family came nine days postpartum. No one was really happy about it, but I set the boundaries and they stuck.
That worked well, so further boundary setting began. We were able to drive up to my in-law's house in five hours, at night while the baby slept, so visits there were more frequent. My mother's house took ten hours, even without stops to nurse, and we couldn't manage that in one night. I wasn't about to drive five hours, drag the baby out of the car, clap the baby back in the car, and drive another five — he was a car screamer when he wasn't asleep. So we just didn't visit.
My mother, of course, did not like this at all. She'd wanted to have a party where she showed off Blaise to all the other relatives — a party with around 40 people, with cake and balloons and presents. I refused, because we couldn't make the trip, and she didn't talk to me for a while. That was something she had to deal with, I had to do what was best for my little one.
She also didn't like that in later years, we chose to spend two weeks at Nags Head with my in-laws and the rest of my husband's family. It's an important family tradition they have that spans over 40 years. Our three sons were able to see their cousins and play on the beach together. One year, we tried to visit with both families. First we stayed with my parents, in their new three-bedroom house, for ten days — with no air conditioning. Then we traveled to my in-law's, stayed there for a few days, and then drove to Nags Head. We were away from our home for nearly a month. I didn't set boundaries, and I paid for it: My kennel bill was absurd. My housesitter left the door open and ruined an antique gaming table, and we worried possums had taken up residence under the bed. I swore never again.
The next time we went to my mother's, we stayed for only six days. On both ends of the trip, we stayed with my in-laws for a few additional days. Everyone begged for us to stay longer. They dangled enticements — my parents' mountain cabin! Colonial Williamsburg! — but we stood firm. We didn't want a repeat of what had happened last time.
Right now, my mother is once again unhappy that we aren't visiting this summer. We've already gone to the mountains, to my in-laws', and to Nags Head. We simply don't have anymore time. I won't put myself through another long distance car ride; I need to be home. So I held firm with my boundaries — kind, but firm. I told her I couldn't drive the kids around again and didn't have time. She'll call me back eventually. I told her to come visit us.
We do offer that alternative to our traveling: Everyone knows they have an open invitation to visit any time. And they do; my mother comes down whenever her school schedule permits, and we love having her. She looks at houses (she's thinking of moving), and we go thrifting. She plays with the kids, who adore her. My in-laws sometimes meet us halfway and take the kids to museums and zoos in Raleigh. When they come to our house, they do the same, and watch football. They stay in a hotel; we don't have the room for both of them. My mom stays with us; we're okay with that. When and if we aren't, we'll make that clear. I have three small children, three dogs, limited funds, and numerous health issues. It makes more sense for people to come to us.
It's hard to juggle two very possessive families. But we've found that if we set clear boundaries, they eventually come around to our way of thinking — or realize that they won't see us as often. The rest of the family is important, but our kids are paramount. So is my sanity. And that's the only way our nuclear family can work. No more torturing ourselves to keep the peace.
This article was originally published on