This Family Tree Site Knows A Lot About You And It's Creepy As Hell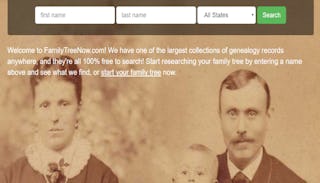 Image via FamilyTreeNow.com
This genealogy site makes all of your information accessible to anyone
A genealogy website that tracks your family connections is getting a lot of attention right now. Not because it's a great site, but because the website is downright terrifying. It knows a lot about you and allows anyone to access this sensitive information for free.
The good news? You can easily opt out.
FamilyTreeNow lists current and past addresses, phone numbers, birth records, names of relatives, and past and current relationships. The free genealogy resource pulls a lot of its information from public records and other legal sources, which many "people search" websites do. You've probably heard of Spokeo and Intelius, which are similar in nature. The big difference is those sites generally charge a fee or require a fee-based membership, which most people won't bother with. What makes FamilyTreeNow so damn scary is how easy and accessible your information is to anyone.
As you can imagine, the site is extremely problematic for people with risky occupations, people who are routinely targeted or threatened (activists, religious leaders, etc.), or for those that have survived domestic violence. I personally fall into all of those categories and therefore, looked up my own name on FamilyTreeNow.
My past addresses, age and most family members linked to me were accurate. It was unnerving. My reaction was also heightened by a recent incident on Twitter where a troll threatened to publicly out my personal information (a practice known as doxing), including my address and information about my young kids. All because I wrote a blog post he didn't agree with. Thankfully, law enforcement stepped in and Twitter banned him, but it was obviously scary. Sites like FamilyTreeNow will only make it easier for people like him to terrorize anyone they please.
Herein lies the problem. Sites like these are great for people who are interested in genealogy and who love tracing their roots. Family trees can be really fun and interesting. But, these sites can also be an effective tool for creepy individuals who aim to use it for harassing, threatening, and even physically attacking other people. The good news is, you can remove your information from the site in a matter of minutes.
I followed the steps to opt out and as of 24 hours later, I'm not listed on the site. I'm not sure if my information is actually out of the website's database or if the site is just blocking public access to it. The Washington Post tried to reach out to the listed founders of the FamilyTreeNow to get clarification on what happens when an individual opts out, but they were unable to reach anyone via phone or e-mail.
Here are the steps to do it yourself, directly from FamilyTreeNow:
Step 1: After you click the 'begin' button below, you will be taken to the search page. Run a search for yourself.
Step 2: After you have found yourself in the results, click on the record detail. Verify that this is yourself and not just someone else with your same name.
Step 3: After you are 100% sure this is your record, click the big red 'Opt Out' button that is on the page.
Step 4: You are done. Please allow up to 48 hours for your request to be processed. Once it's processed that record will be removed from all places on the site. Note: If you have multiple records that need to be removed, repeat steps 1-4.
Internet privacy is a huge issue in our ever-expanding technical universe. As technology evolves, so must our own awareness of what information about our private lives is accessible to anyone. It's definitely scary, but vigilance can help us stay safer.
This article was originally published on