Famous Dads Got Some Adorable Instagram Tributes On Father's Day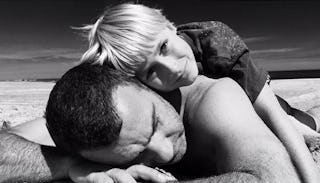 Famous dads honored on social media for their fatherhood skills
Famous dads, they're just like us but waaaay more popular. Their Father's Day celebrations and tributes do look a lot like ours, though. Baseball games, beach hangouts, and watch parties for game 7 of the NBA finals were hosted in honor of these celeb dads. And just like the rest us, their adoring partners and spouses took to Instagram to share sweet tributes to these famous fathers.
See how these famous dads were celebrated by their partners for #FathersDay.
Reese Witherspoon celebrated her husband Jim Toth, who is father to their 3-year-old son, Tennessee James Toth.
Model and TV personality Chrissy Teigen wrote a lovely and funny tribute to first-time father John Legend about their adorable baby Luna.
Actress, model, and businesswoman Jessica Alba shared a Father's Day photo of her family, including her father and husband, Cash Warren, who is dad to their two daughters, Honor Marie Warren and Haven Garner Warren.
Actress Naomi Watts shared some family beach photos with a Shakespeare quote. Watts has been married to Liev Schreiber since 2005 and they have two boys together – Alexander Pete Schreiber and Samuel Kai Schreiber.
Singer, songwriter, and former Destiny's Child member Kelly Rowland shared a family selfie that included her husband Tim Witherspoon and their son, Titan Jewell Witherspoon.
The actress Olivia Wilde, who is well known for her role on the TV series House, shared a photo of partner Jason Sudeikis and their son Otis Alexander Sudeikis. The couple have been together since 2011.
Neil Patrick Harris shared a family shot with a sweet message about partner David Burtka. The couple have a daughter, Harper Grace Burtka-Harris, and a son, Gideon Scott Burtka-Harris.
Model Gisele Bündchen posted a family beach photo that featured husband Tom Brady and their two children, Benjamin Brady and Vivian Lake Brady.
TV personality Nicole Richie shared a throwback photo and sweet message to husband Joel Madden. The couple have two kids together, Harlow Madden and Sparrow Madden.
Actress Jenna Dewan Tatum shared a message of gratitude and a semi-blurry photo of husband Channing Tatum and their daughter, Everly. The couple rarely shares photo of their toddler.
Victoria Beckham, fashion designer and former Spice Girls members, posted a photo and tribute to her famous soccer player husband, David Beckham. The couple have four kids together – Brooklyn Beckham, Harper Seven Beckham, Romeo James Beckham, and Cruz David Beckham.
Singer, songwriter, and producer Alicia Keys celebrated husband Swizz Beatz. The couple has two kids together – Egypt Daoud Dean and Genesis Ali Dean.
First Lady Michelle Obama shared a family photo in front of a waterfall for Father's Day.
And Hillary Rodham Clinton, the presumptive nominee of the Democratic Party for President of the United States in the 2016 election, shared a throwback photo from her Disney days with husband Bill Clinton and daughter Chelsea.
Happy Father's Day, dads! Thanks for all that you do!
This article was originally published on