Famous TV Feuds: When The Drama Doesn't End on the Screen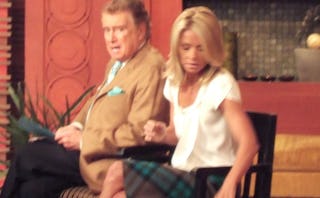 When Regis Philbin revealed to Hoda Kotb on SiriusXM recently that he hasn't spoken to Kelly Ripa since leaving Live! back in 2011, I have to admit I was a little surprised. After all, the pair hosted the show together for 10 years, and they truly seemed to have good chemistry. Plus there was that whole Pippa thing. But was I totally and completely shocked to hear that Reeg is now persona non grata? Not really. After all, we've been down this road before. Check out these other five infamous TV feuds. Real or not, we'll never know!
Will Smith & Janet Hubert, The Fresh Prince of Bel Air
Now this is a story all about how this show got flipped-turned upside down. Sorry. Had to go there. Anyway. If you were really confused when Will's Aunt Viv was suddenly being played by an entirely different actress, join the club. Rumor has it there was no love lost between Will and Janet. Here's what she had to say about him as recently as 2011 when asked about doing a reunion: "I will never do anything with an asshole like Will Smith." Ooh, burn!
Sarah Jessica Parker & Kim Cattrall, Sex and the City
Rumors about the cat fights between these two ran rampant during the entire run of the show, reaching a pinnacle during the negotiations for the movie Sex and the City 2. We couldn't help but wonder if supposed salary disputes were the reason, but since neither SJP nor Cattrall has ever copped to anything, until SJP channels Carrie Bradshaw and pens a tell-all book, we will never know the true story.
Teri Hatcher & Marcia Cross, Desperate Housewives
Back when this show was still on the air, there was enough gossip surrounding the bitter relationship between these two to keep the housewives of Wisteria Lane buzzing for months. It all reportedly started at a Vanity Fair photo shoot when Teri was positioned front and center, and Marcia freaked out and bailed. She came back the next season with a shaved head, scary scar and enough TNT to blow up an entire apartment complex. Oh wait. Wrong show.
Patrick Dempsey and Isaiah Washington, Grey's Anatomy
The feud between McDreamy and Dr. Burke is legendary, mostly because it ended in a fist-fight due to Isaiah's use of a homophobic slur in reference to co-star T.R. Knight. The incident resulted in huge controversy and crazy headlines, with Isaiah eventually being ousted from the show—at least until Shonda Rhimes brought him back in 2014 for May sweeps.
Shannen Doherty & Jennie Garth, Beverly Hills, 90210
I saved the best for last. Because life imitates art imitates life. And so while Kelly and Brenda were busy fighting over Dylan McKay in the halls of West Bev, Jennie & Shannen were at each other's throats in real life, too. "There were times when we loved each other and there were times when we wanted to claw each other's eyes out," Jennie said recently. She then went on to downplay the feud, stating: "It was more of just young girls finding their way and finding their individual voices." Tori Spelling paints a different picture, however, claiming the relationship actually resulted in physical violence. So who do we believe? We'll defer to Brenda here when we say if it walks like a duck and talks like a duck…
This article was originally published on