Fanny Pack Slides Are Here And They're Genius, TBH
by Thea Glassman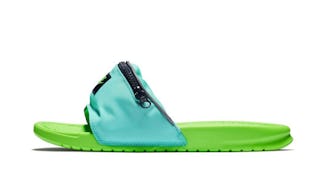 Image via Nike
Fanny pack slides are a thing, and you're actually probably going to want them. Not even kidding
Will you ever wear a fanny pack in your entire lifetime? Probably not. Will you want every single pair of fanny pack slides? Yes, yes, I think you definitely will. Nike is reportedly releasing a new line of slip-ons with a fanny pack feature and they're far more appealing than you'd expect. And only, like, somewhat embarrassing.
Here's everything you ever wanted to know about fanny pack shoes, but were definitely too afraid to ask. Nike is reportedly releasing these brand new zippered up slides sometime soon, and they'll come in a whole variety of colors. So, yes, that means you can now embarrass your children in shades of black, pink, and neon green.
https://www.instagram.com/p/BjdXW-NlcIC/?tagged=fannypackslides
https://www.instagram.com/p/BjcxE4WA8X-/?tagged=fannypackslides
The colors are admittedly very, very bright but also who's gonna be laughing when you're able to fit your keys, chapstick, and mini bottle of sunscreen into your shoes while everyone else has to lug bags around? Heh heh heh #winning.
The Twitterverse is, unsurprisingly, pretty divided over the whole thing. Some people are completely sold and totally ready for things to get real weird on their feet.
Others are very perplexed over how much they really, really want to slip into these slides.
And some are giving it a hard pass. Comparisons to Crocs were even made, which seems a little excessive. I mean, crocs are on a WHOLE other level of unattractive and they can't even store your favorite lip gloss.
So, if even a morsel of your soul wants to get in on this fanny pack action, I say go for it. Life is too short not to buy quite possibly the most practical footwear out there.
This article was originally published on