#RenewDocMcStuffins! Fans Unite On Twitter To Save Show
by Valerie Williams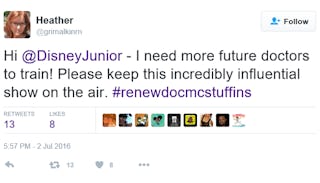 Image via Twitter
Parents and kids want Doc McStuffins to stay on the air — for a number of reasons
Kid's television shows have made strides in recent years towards being more inclusive, but there's still a long way to go as far as being truly diverse. That's why fans of Disney's hit show Doc McStuffins are taking to social media over concerns that the cartoon might be cancelled. And thankfully, it looks like Disney is listening.
According to Buzzfeed, #RenewDocMcStuffins started trending this weekend at the urging of TV host and comedian W. Kamau Bell.
The show has yet to be renewed for a fifth season and the news has inspired many impassioned pleas from fans to keep the show going, as Doc McStuffins is far more than just another children's TV show to many kids and their parents.
The show's executive producer and writer confirmed the show hasn't been renewed yet.
While parents are telling Disney how much their kids learn from Doc.
And most importantly, fans of the show are reminding Disney what Doc means to kids as far as representation.
To that end, Bell wrote an article for LA Review of Books explaining exactly why Doc is such an important character for kids to see and emulate, particularly, young, black girls. "Doc McStuffins is about a seven-year-old black girl. That basically makes the title character the Diahann Carroll of children's TV. How many other children's TV shows have a black female lead character? Hint: The answer is 'not nearly enough.'"
He adds, "Doc McStuffins is a doctor for her stuffed animals and toys. And that may sound merely adorable to you, but I'm raising a pair of black girls who will one day be powerful black women." He notes that in addition to that, Doc's mom is a real doctor, which he says, for his daughters, that means "a black female doctor is no big deal, as it shouldn't be."
There's also the fact that Doc is one of few kid's TV characters with a "job" that isn't totally based in fantasy. Sure, it's fine for little kids to adore princess and pirate characters, but it's also crucial for them to see shows about real life. We know how obsessive little ones can become about their favorite shows, so why not let them watch something that could help shape their goals for the future? Or at least help them understand that they can be far more than princesses and pirates.
After the outpouring of support for Doc, Disney Junior tweeted a response.
It isn't clear yet if this means the show will be renewed or will simply continue on in reruns, but hopefully, Disney is hearing from parents and kids who look to Doc McStuffins as a lot more than a kid's cartoon. Here's hoping they keep it going for several seasons to come.
This article was originally published on