New 'Fantastic Beasts' Trailer Is Here And Yes, It Looks Pretty Fantastic
by Cassandra Stone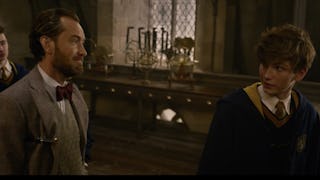 Image via YouTube
The new 'Fantastic Beasts' trailer will make wizarding world fans feel things
The trailer for Fantastic Beasts: The Crimes of Grindelwald is here, and if you're a fan of anything J.K. Rowling-related (if not, who even are you?), you're in for a real treat. In the words of SNL's Stefan, it's got everything: dangerous spells, weird demon cats, an adorable child version of Eddie Redmayne, and oh yeah — Dumbledore is kinda…sexy?
The extended-length trailer dropped last night at San Diego Comic-Con and was made available for intense public consumption a short while later. The sequel to Fantastic Beasts and Where to Find Them is one of the most highly anticipated movies of the year.
"I'm scared, Professor Dumbledore." UGH MY HEART.
The opening scene features an adorable bebe Newt Scamander (complete with a perfect Redmayne side-swoop) in class with none other than a young Albus Dumbledore, played by Jude Law. Which gave me hella confusing Muggle feelings, because I wasn't planning on being attracted to Dumbledore ever in my life? But alas, here we are.
In the trailer, Scamander is less the magical, quirky zoologist we all know and love and doing more wizard-y detective work, as he and Dumbledore team up to track down dark wizard Gellert Grindelwald. But that doesn't mean there's a shortage of magical creatures to be found, because even the three-minute trailer is jam-packed with fantastic beasts (again, did you see those demon cats?).
The trailer brings the tension as we see Grindelwald working to gain power over the wizarding world, covering major parts of the modern Harry Potter world as well. There's even a little "cameo" by Nicholas Flamel, the alchemist responsible for Harry Potter and the Sorcerer's Stone.
Obviously, fans everywhere were delighted by the trailer to the Fantastic Beasts sequel — as any true Potterhead should be.
Fantastic Beasts: The Crimes of Grindelwald