Video Of Son Connecting With Dad With Alzheimer's Through Song Goes Viral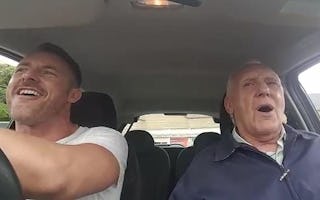 Image via YouTube.
Father with Alzheimer's and son connect through song in viral video
Eighty year old Ted McDermott has been entertaining most of his life and was well known for singing in clubs around England. His nickname – The Songaminute Man – was given to him because of his incredible ability to remember so many songs. In the past few years his memory has deteriorated as he battles Alzheimer's, but the songs remain.
Simon McDermott, 40, uploaded dashcam video of him and his dad, 80-year-old Ted, driving around and singing. "In the last few years his memory has deteriorated a lot – often not recognising family and with many aggressive episodes. When we've got him singing again he's back in the room. It's these moments that we treasure," McDermott explained on the fundraising page he set up for the Alzheimer's Society. The duo has raised more than $100,000 so far.
Dementia is a phrase that covers a variety of symptoms including memory loss and difficulties with thinking, problem-solving or language, experts say. It's progressive, so the symptoms get worse, which McDermott's experienced firsthand. "The more Alzheimer's kicked in, the more Dad became violent – both physically and verbally," he explained. "It was incredibly difficult to manage. And terrifying at times."
The disease can cause an overwhelming amount of stress on the victim's caretakers at times, especially when their loved one no longer remembers them. "In the last few years his memory has deteriorated a lot – often not recognizing me as his son," McDermott wrote. "It's a horrible illness." But thankfully Ted remembers songs that he and his son can sing.
Because singing has been such an integral part of his life, it will likely be the last thing to go due to the Alzheimer's. "Alzheimer's disease affects recent memories first. The retention of new information is most affected, while recollections of things that happened in the past are much more resistant," explained Washington University School of Medicine Professor John C. Morris, who directs the Alzheimer's Disease Research Center in St. Louis. Memories that are well encoded will be the ones victims of Alzheimer's remember best, according to Morris. Since Ted had to constantly recall so many songs during his life, they're one of the things not yet affected by the disease.
So Ted can keep singing without issue, which has brought an unimaginable amount of joy to his son – and to people all over the world whose family and friends also have Alzheimer's. The father and son duo continue to raise money for the organization McDermott said helped him during some very tough times.
"I cannot begin to describe how a stranger's voice at the end of the phone line helped when things got really bad," he shared. "Without them, we would have had very little idea or support about how to deal with even the basics of Dad's condition."
This article was originally published on