Real-Life Clark Griswold Accidentally Films Entire Vegas Vacation In Selfie-Mode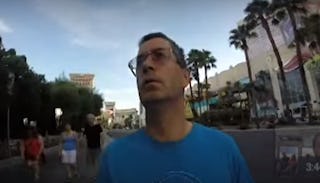 Image via YouTube
If you have older parents, you've probably witnessed some funny technology fails, but nothing compares to this dad who filmed a whole trip to Vegas….in selfie mode. His son loaned him a selfie stick and a GoPro camera to document his big trip but alas, all he got was hours of video of his own face.
Joseph Griffin traveled all the way from Ireland to visit Las Vegas and his son Evan thought it might be fun for his dad to document the trip with video. Armed with Evan's selfie stick and GoPro, he saw the sights of Las Vegas and eagerly took video adding his own colorful narration but forgot one tiny detail — the lens was facing him the entire time. Evan edited the video footage and uploaded to YouTube titling it "An Irishman In Vegas." If you can watch this without laugh-crying, more power to you.
It's so sad that he missed out on all the fun vacation footage and has only video of his face, but maybe this is more memorable anyway. His commentary is adorable with notable highlights including Griffin pointing out the Grand Canyon in the distance but all we see is…his face. From WKYC news, Evan says his dad not only messed up with the lens, he also destroyed the camera entirely. "All the footage is only from the first day because my dad later took it swimming without the waterproof case and fried it so missed out on the Grand Canyon and everything." Oh, Mr. Griffin. A vacation fail, indeed.
The end result is pretty hilarious, even if it's not exactly what he had in mind. The video has been viewed over four million times on YouTube and I'm sure he and his family are finding the humor in it, especially since it's gone viral. The fact is, these kinds of things happen all the time now. Technology has moved so rapidly in the last decade that it's difficult to keep up, particularly if you're a bit older and set in your ways. I've watched my own parents, my mom in particular, struggle to understand their iPads and smartphones. Even though I'm still young, even I have moments of going "What's a Snapchat?" So, we get it parents. We get it.
Someday, we will need our kids to be patient with us, because no matter how well we try to keep up, there will come a point where we feel a little behind the technological eight ball. This video and the story behind it are humorous and sweet, but I sincerely hope his family was sympathetic toward him for his little screw-up. It's tough keeping up and the best thing we can do is help our parents out and not make them feel even more bewildered in this ever-changing digital landscape.
This article was originally published on