'Father Of The Bride' Cast Reunites For A Zoom Wedding, Because 2020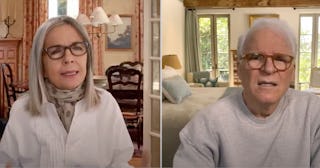 Netflix
Father of the Bride cast reunites for a Zoom wedding in just-released pandemic short film
Earlier this month, Nancy Meyers announced that the long-awaited third film in the Father of the Bride series was actually happening and on Friday, September 25, 2020, the cast of the original film got back together for what Meyers lovingly referred to as "Father of the Bride Part 3 (ish)." Like most nostalgia reunion shows filmed this year, this one was also captured over Zoom, but in true Father of the Bride fashion, there was a wedding. Well, a Zoom wedding, because #PandemicProblems.
RELATED: The Best Gifts To Give The Father Of The Bride
The 30-minute short film aired on Netflix's YouTube and Facebook account on Friday afternoon and it was the first time in 25 years that the cast was together again. Steve Martin, Diane Keaton, Kimberly Williams-Paisley, George Newbern, Martin Short, and Kieran Culkin all reprised their roles from the '90s films while actors Ben Platt and Florence Pugh played the adult version of the babies born in the second film. As for the wedding, Matty (played by Culkin) surprised his family during their usual Zoom family call by announcing that he wanted to marry his fiancée Rachel (played by actress Alexandra Shipp) right then and there over Zoom, as so many couples have had to do this year because of the pandemic.
Of course, Martin's George Banks loses it, saying all he ever wanted was to attend his son's wedding because he could finally just sit back and relax and not have to pay for anything. "I've waited 30 years to be father of the groom and now her dad is getting out of the wedding?" George exclaimed. "Was this her father's idea?"
Oh, and Matty's fiancée's father is played by Robert De Niro and Martin Short reprises his role as the eccentric wedding planner Franck Eggelhoffer. By the end of the short film, Martin has transferred the title of "Father of the Bride" over to De Niro.
Meyers, who wrote and directed the short, said she got the idea during quarantine when she imagined how George Banks would react to the chaos of well, everything about this year.
"If he thought a wedding was a lot, how would he react to 2020?" Meyers teased on Instagram earlier this month.
She wrote in an op-ed for The New York Times that she reached out to Martin, who said he was doing literally nothing during the pandemic and was down to make the short film. And those amazing and iconic Nancy Meyers kitchens and living rooms in the backgrounds of each actor's Zoom window? Most of those are greenscreens because let's be real, we highly doubt Kieran Culkin in living in a spacious earth-toned colonial home with a sprawling kitchen island.
The short film benefitted the World Central Kitchen, an organization working across America to safely distribute individually packaged, fresh meals in communities that need support — for children and families to pick up and take home, as well as delivery to seniors who cannot venture outside right now during the pandemic. To date, WCK has provided over 25 million meals in more than 400 cities.
You can watch the Father of the Bride reunion special on Netflix's YouTube account now.
This article was originally published on