Fatherly's New Book Is Here To Made Dad Life Easier
by Kristina Johnson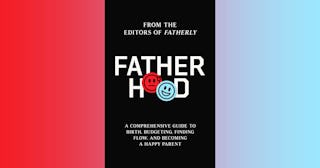 Fatherly
The editors of Fatherly couldn't find a great book about being a dad — so they put together their own
So much of the parenting space is focused on moms — from websites to blogs to books — but dads need advice, help, support, and community, too. The dad-focused website Fatherly has a new book out aimed at providing all of those things and more to dads, offering expert guidance for every step along the journey of becoming a father.
Fatherhood: A Comprehensive Guide to Birth, Budgeting, Finding Flow, and Becoming a Happy Parent is geared toward a new generation of dads — a generation that hopes to be more involved, aware, and understanding than the generation that came before.
"Maybe your father loved you, maybe he didn't. Whether he was present or absent, understanding or harsh, "good" or "bad" in your estimation, he was most likely unaware of what he held — because there was nobody to teach him to shape it," the book's intro says. "Like others before him, he progressed through the experience of fatherhood, trying to refine the raw white stone and trying to make it shine. Someone just needed to help him find the correct angles."
Those angles are covered thoroughly throughout the book's 300-plus pages, beginning with supporting your partner during pregnancy and in the delivery room, dealing with dad depression, and the "infant-industrial complex." The book tackles these topics with heart and of course, a little bit of humor — because no manual on fatherhood would be complete without a chapter on the art of roughhousing with your kids. There are awesome illustrations, and short sections that it make it highly digestible — even if dad life has already got you super busy.
"We created Fatherly to help guys who were becoming dads raise great kids while leading fulfilling adult lives." says Michael Rothman, Co-Founder and CEO of Fatherly. "Our goal with Fatherhood is to squeeze the best juice out of the 20,000+ articles we've written into a single resource that will prep dads for what's ahead while letting them know that they're not alone in their often weird thoughts, feelings and observations in those early years as a new parent."
"I hope that an expecting father can pick up this book and recognize how parenting is not a series of diaper changes and sleepless nights and developmental steps. Rather, it's a journey of self-discovery and human connection where becoming a better, more empathetic person, partner, and citizen of the world is the real goal — to lead a life that your kids will follow," Fatherly's Editor-in-Chief Tyghe Trimble tells Scary Mommy. "If we hear one father say that the book helped them find some calm and confidence, to focus on leaning on friends and supporting their partner, that would be the biggest compliment."
Fatherhood is due out November 9 — but you can pre-order a copy for the dad or dad-to-be in your life now.