Father's Day Means Something Very Different When You Never Had A Father
by Clint Edwards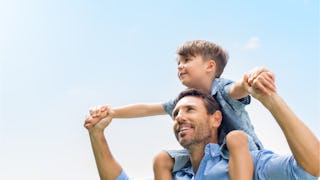 Rido / Shutterstock
My father left when I was 9 and died from drug addiction when I was 19. Most of my childhood, I avoided Father's Day. Sometimes I'd pick up a shift at work, and then find some corner of whatever crappy retail store I was working at to hide out and stay busy so that I could avoid families walking around with their fathers. Sometimes I went into the woods. I hiked around, maybe went mountain biking, really anything to get away from fathers and their children visibly celebrating the holiday.
I spent a long time as a child resenting friends who had good relationships with their fathers because they had something I so longed for. I would have loved to have someone to seek advice from. Someone to teach me this or that about what it means to grow up to become a man, a husband, and eventually a father myself. Someone I could present with a Hallmark card and a crappy necktie.
When I think of my father, I often think about how I didn't cry at his funeral. It wasn't until almost a year later that I cried. But it wasn't because of his death. I cried because the hope I clung to that he'd turn his life around, and be part of my life, was gone.
I think anyone who was raised with an absent father can relate. When you are missing a parent, you look back on your childhood, and it feels lopsided. You spend a lot of time looking at what isn't there. Realizing all the things that you had to teach yourself, rather than have someone next to you, guiding you, loving you through the tough stuff.
And on Father's Day, that gap, that hole, that lopsided feeling felt even more present.
At 24 years old, when I had my first child, a little boy, I don't know if I had the language to describe the way I felt about my father being absent, or the realities of how it made me 100% insecure about becoming a father myself, but what I do know is that the thought of fatherhood was terrifying. I think all first-time parents feel some anxiety, but when you never had an example, becoming a new parent feels like setting sail into uncharted waters. I knew that I was missing something as a young man, and I wanted so badly to give that something to my son, but I couldn't for the life of me figure out what that something was.
All of it made me terrified.
I thought about that feeling a lot on my first Father's Day as a father. My son was just a baby, and my wife got me this card with his handprint on it. It was in green paint, and you could tell she had a hell of a time getting Tristan to stay still long enough to get an impression. But there was something about his smudged handprint that felt so recognizable. I didn't realize it until then, but Tristan and I had the same hands — slender fingers with block-shaped palms.
My dad had those same hands too. And there was something about realizing this similarity that made me think about what I didn't have and what I had to offer. I realized that I was in the middle, between an absent father and a new son who needed me to step up and be that something I never had. I could break the cycle.
It was then that Father's Day changed for me. I stopped looking at it as a reminder of something I didn't have and started seeing it as a reminder of the opportunity to give my son something I'd always longed for — an active and loving father. On that first Father's Day, I made a commitment to be present. To be there, even though I didn't fully understand what that meant, but I knew that it would be more than I ever had.
Now on Father's Day, I think about how lonely I used to be, and I think about what I always wished I had, and I recommit to breaking the cycle. While I know that Father's Day is supposed to be a time to give gifts and praise to the father in your life, it doesn't really mean that to me. This isn't to say that I don't take advantage of a nap, or accept all the well-intentioned, but ultimately crappy gifts I receive from my children. We go through the motions, and I enjoy it.
But to me, Father's Day is a yearly reminder to my children that I am there, that I care, and that I'm not going anywhere. It feels good.