This New Father's Day Photo Of Prince Harry And Baby Archie Is Everything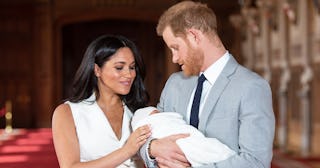 WPA Pool/Getty
The sweet photo of the new dad and his son is adorable
As if we couldn't love Prince Harry and Meghan Markle — ahem, the Duke and Duchess of Sussex, respectively — even more, the insanely sweet Father's Day photo shared on their Instagram account is yet another one. And best of all, we get to see baby Archie's adorable little face!
The Instagram post sends love to all dads on this Father's Day, but Prince Harry, of course,
gets a little special shout-out. "Happy Father's Day! And wishing a very special first Father's Day to The Duke of Sussex."
O.M.G. THAT FACE. It may be Father's Day but that baby absolutely favors his beautiful mother — at least in the eyes and the top half of his nose, anyway. Considering how strong those Windsor genes are, it's always delightful when the baby resembles the one who put in the work to deliver it. Any mom who says otherwise is a liar.
Last month, in honor of Mother's Day, the Sussex Instagram account shared a similarly touching photo of Meghan and Archie. The post noted that it was the first mother's day for Markle and included a quote from the poem "lands" by Nayyirah Waheed. "My mother was my first country; the first place I ever lived," it read.
Markle gave birth to Archie Harrison Mountbatten-Windsor on May 6th. Prince Harry shared the happy news with reporters and was downright giddy. Basically, he was mooning over his family like crazy and it would put anyone in the happiest of moods.
"How any woman does what they do is beyond comprehension," he said. "But we're both absolutely thrilled and so grateful to all the love and support from everybody out there. It's been amazing so we just wanted to share this with everybody."
This Father's Day photo marks the first time we've seen Archie's face since the family's first official appearance a few days after his birth, when they posed for pictures and answered some questions about the baby's birth.
We look forward to more photos and snippets from the Sussex family in the future. Wishing Prince Harry a very happy first Father's Day!