'I Can Breathe Again': Father's Video Captures Teen Waking From Heart Transplant Surgery
by Anna Gebert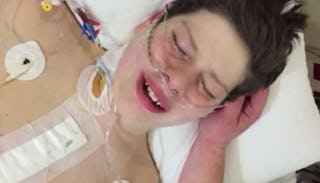 Image via Facebook
This viral video of a grateful teen waking after heart transplant surgery highlights the importance of organ donation.
Among the worst things that can happen to your family is the diagnosis of an illness that could quickly take your child's life. Further, imagine learning that there is no real treatment other than to replace a failing organ – like a heart, meaning that an otherwise healthy person has to lose their life in order to prolong your child's.
15-year old Trevor Sullivan's wait for a new heart lasted 10 agonizing months, but thanks to organ donation from an anonymous donor described only as a young person who had good muscle tissue and a strong heart, Trevor has a new lease on life.
He had been feeling unwell for about a year, primarily suffering from constant breathlessness, before undergoing sudden heart failure and being airlifted to a hospital last February due to undiagnosed severe cardiomyopathy. His condition was so devastating that he was placed on the heart transplant registry prior to being discharged from the hospital, as his doctors didn't think he would survive without a new heart.
Let that sink in for a minute: your teenager admits he's been feeling under the weather for a while, but probably doesn't let you know the full extent of his discomfort because he doesn't want to worry you or seem fallible. The next thing you know, you're in a helicopter while medical professionals work to save his life, but only temporarily, as his long-term survival depends on receiving a donor heart.
In November Trevor's parents Kimberly and Philip received the phone call they were waiting for: a donor heart had become available, and the surgery would take place the next day.
"It was very exciting," Kimberly Sullivan said. "It seemed like the shortest and the longest time all at once. He'd been ready to go in for his surgery and get better, so it was really great to be able to tell him it was happening before he had lost any hope."
Trevor had asked his parents to record his moments coming out of surgery, and the intimate video doesn't disappoint. Be forewarned, you may lose your eye makeup as you witness Trevor's immediate relief and unreserved happiness upon experiencing the beating of his new, healthy heart:
While Trevor's heart transplant took place in November, his father Philip only recently shared these private memories via Facebook in an effort to bring positive attention to the act of organ donation via Gift of Life Michigan. According to the organization, approximately 114,000 people nationwide are waiting for a life-saving organ, and many die daily while on the organ registry as the number needed outpaces the organs available.
To register as an organ donor, register with your state's Organ Donor Registry, designate your decision on your driver's license, and talk to your family about your wishes. In the event of your untimely death, you could save up to 8 lives and improve the lives of 50 or more sick or injured people. Let the heartwarming story of Trevor Sullivan inspire you to potentially impact the lives of others.
This article was originally published on