Dr. Fauci Says Vaccine Will Improve COVID Situation As Early As April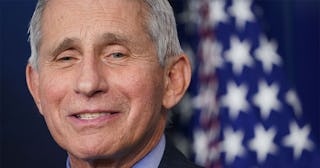 MANDEL NGAN/AFP/Getty
Dr. Fauci is giving the country a bit of hope with his latest vaccine estimates
After months and months of devastating news concerning the coronavirus pandemic, experts offered a bit of a silver lining over the weekend. Anthony Fauci, the nation's highest-ranking infectious-diseases doctor, said that although the demand for vaccinations "clearly outstrips supply right now," the situation's expected to improve in the next couple of months.
"I can tell you that things are going to get better as we get from February into March, into April, because the number of vaccine doses that will be available will increase substantially," Fauci said on NBC's Meet the Press.
Fauci noted the increase will come from the already approved Pfizer and Moderna vaccines, which he said are "coming off the line as quickly as we can" and the Johnson & Johnson vaccine, which may be approved within the next week.
Since vaccine distribution began in the U.S. on Dec. 14, more than 39 million doses have been administered, around 9.1% of the total population. The U.S. is currently administering around 1.4 million shots a day, according to the CDC.
But on Saturday, states administered nearly two million doses, according to Washington Post data, increasing the country's daily average to 1.5 million-per-day goal. President Biden confirmed on his sixth day in office that this is where we would be at.
That good news must be tempered with the reality of the current environment. While the number of new infections has been declining steadily for nearly a month, our current average number of 120,000 cases per day is higher than the surges we experienced in the spring and summer. To date, over 463,000 people have died from the virus.
Additionally, as virus variants continue to infiltrate the US, the need for increased vaccine rollout becomes even more critical. Research made public over the weekend shows the variant that started in the UK is spreading rapidly across the country, doubling every ten days. The CDC has estimated that the variant, known as B.1.1.7, will become dominant in the United States by late March.
Former FDA Commissioner Scott Gottlieb commented on CBS's Face the Nation on the availability of the current COVID-19 vaccines, saying that by April "supply could outstrip demand." He also noted the vaccines," are probably going to be about 20 percent less effective against these new variants from Brazil and South Africa."
He continued: "We've had some days where there are 2 million vaccines that have been delivered," he said. "I think we'll see that more consistently. That will be the run rate. By the end of March, we'll have delivered 250 million vaccines onto the market, if the J&J vaccine gets authorized. In April, we'll probably deliver another 100 million vaccines onto the market."