Dr. Fauci Says Double Masking 'Just Makes Common Sense'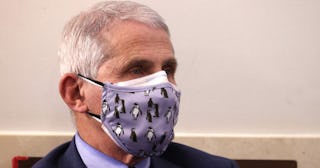 Tasos Katopodis/Getty
Dr. Fauci says wearing two masks, or double-masking, 'just makes common sense' now
Even though there are millions of Americans who still won't put on a mask to slow the spread of the coronavirus and protect their own health and the health of their community, if you're a person who cares about science, and helping others, and ending the pandemic, the new COVID-19 hot tip is double-masking. Double-masking, which is exactly like it sounds, means wearing not one, but two masks for added protection and Dr. Anthony Fauci says it's "likely" that this new practice does help to protect against the spread of COVID-19.
The Centers for Disease Control has not recommended double masking yet, but Fauci says it "likely does" help because "it just makes common sense that it would be more effective."
"This is a physical covering to prevent droplets and virus [from escaping or entering], so if you have a physical covering with one layer, you put another layer on, it just makes common sense that it likely would be more effective," Fauci told Today on January 25, 2021. "That's the reason why you see people either double masking or doing a version of an N95."
This logic is corroborated by research as well. According to a study in scientific journal Med, "for maximal protection members of the public can either wear a cloth mask tightly on top of a surgical mask where the surgical mask acts as a filter and the cloth mask provides an additional layer of filtration while improving the fit, or wear a three-layer mask" with a surgical mask inserted between the layers of cloth fabric.
A study published in July in Matter stated that two masks could increase protection from virus particles by 50% up to 75%.
"We found that the particle removal efficiency of many surgical style masks could be improved by up to 50% by simply snugging the mask material to the face [with another mask]," study author Dr. Loretta Fernandez explained in the research. "In the lab, we did this by adding a nylon stocking, but also tested other elastic layers such as gators and tights and found that they also solved the problem of cutting off air leaking in from around the mask."
You've probably already seen nurses, restaurant employees, and other frontline and essential workers double-masking like this as they come in contact with the public on a regular basis.
But citizens have started doing it too, include many of the attendees at Biden's inauguration.
Though some of us are going to take advantage of the extra protections with double masking, Emory University infectious disease expert Dr. Colleen Kraft tells USA Today that more people need to start wearing a single damn mask if we're ever going to get this shit under control.
"If people would just wear masks in general, we would actually be fine against the variants," Kraft says.
Just wear the damn mask, or two.