Dr. Fauci Says We're Not Going Back To Normal Without A Vaccine Or Treatment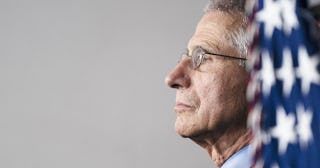 Sarah Silbiger/Getty
Dr. Fauci says there's no "normal" until we find a coronavirus vaccine or cure
Currently, more than 95% of the U.S. is under some form of state-mandated stay-at-home order and the federal government's social distancing guidelines are telling us to stay indoor until April 30, however, that doesn't mean we're all going back to work and school on May 1. Dr. Anthony Fauci, National Institute of Allergy and Infectious Diseases Director and a constant voice of reason against President Trump's seemingly toxic optimism, just made it clear that despite the current social distancing expiration date, there is no "going back to normal" until we have a vaccine.
Speaking to reporters at a news briefing on Monday, April 6, 2020, a reported asked Fauci how we can get "back to normal."
"If 'back to normal' means acting like there never was a coronavirus problem, I don't think that's going to happen until we do have a situation where you can completely protect the population," Fauci said. "But when we say getting back to normal, we mean something very different from what we're going through right now. Because right now, we're in a very intense mitigation."
"When we get back to normal, we will go back to the point where we can function as a society. But you're absolutely right. If you want to get back to pre-coronavirus, that might not ever happen in the sense that the threat is there. But I believe that with the therapies that will be coming online, and the fact that I feel confident that over a period of time we will get a good vaccine, that we will never have to get back to where we are right now."
As for those vaccines, the most promising one is from Johnson & Johnson, who are planing to start testing the vaccine in September with hopes of having the first batches ready for use by early 2021. However, Dr. Fauci has previously stated that a vaccine could take a year to a year and a half before it's ready for public use.
In terms of therapies to treat COVID-19, there is a ton of debate surrounding the use of anti-malaria drug hydroxychloroquine to treat coronavirus. Trump continues to push it as a miracle treatment and some doctors have adminstered it to patients, but they have no way of knowing if the patients got better on their own or if the drug played a part. Unfortunately, there is still very little research and Dr. Fauci has urged caution when referring to the drug as some coronavirus cure-all. Currently, a few clinical trials are about to launch, with the hopes of investigating whether the drug is actually effective at taming the virus. The FDA is also hard at work on "blood-related therapies for COVID-19″ using the blood of individuals who recovered from COVID-19 to help those currently affected by the illness.
Information about COVID-19 is rapidly changing, and Scary Mommy is committed to providing the most recent data in our coverage. With news being updated so frequently, some of the information in this story may have changed after publication. For this reason, we are encouraging readers to use online resources from local public health departments, the Centers for Disease Control, and the World Health Organization to remain as informed as possible.
This article was originally published on