Fauci Tells Kids That He Went To The North Pole And Gave Santa The Vaccine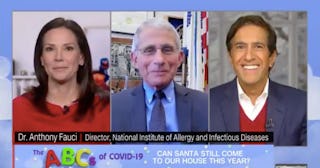 CNN Twitter
Dr. Fauci tells kids that Santa got the vaccine in the North Pole so he's ready for Christmas
The pandemic is hitting hard this time of year around the holidays and it's especially confusing for kids who might be wondering why they aren't seeing grandma or their cousins this year. And for some kids, they're also worried that Santa might not be able to visit them because the idea of a man sliding down their chimney goes against all the social distancing precautious they've been taught this year. Well, thanks to Dr. Anthony Fauci, he let a group of kids know that he personally gave Mr. Claus the COVID-19 vaccine, so they have nothing to worry about when Santa Claus works his magic on Christmas Eve.
In a town hall for families hosted by Sesame Street and CNN, Dr. Fauci — who celebrates his 80th birthday on Christmas Eve — answered children's questions on all sorts of topics concerning the holidays during a pandemic and when a number of kids asked how it was safe for Santa to visit them this year, Fauci had the perfect answer.
"I took care of that for you," Fauci says. "Becuase I was worried that you would be upset…I took a trip up there to the North Pole; I went there and I vaccinated Santa Claus myself. I measured his level of immunity, and he is good to go."
"[Santa] can come down the chimney, he can leave the presents…and you have nothing to worry about," Fauci consoled the worried kids.
"The ABC's of Covid-19: A CNN/Sesame Street Town Hall For Families," which aired on Saturday, December 19, 2020, is Sesame Street's fifth town hall to date and discussed how families could stay healthy during the holidays amid the COVID-19 pandemic.
Other questions that came up included when kids would be able to get the vaccine, to which Fauci said that vaccine developers will start trials on children in a month or two and told kids to "hang in there" and that when the time comes for them to get the vaccine, that it doesn't hurt, just feels like "a pinch."
Other kids asked Fauci the heartbreaking question of who they could safely hug during the holidays this year and Fauci cautioned kids the same thing he tells adults, which is that they should stick to hugging the people they live with and not anyone who comes to visit on Christmas by bus, train, or plane.
Good on Fauci for helping kids keep the magic alive this year. Visiting Santa at the mall may be out this year, but Santa and his reindeer are still on for a magical and COVID-safe Christmas Eve. If you missed it, you can watch the entire town hall episode here.