15 Ways To Celebrate Your Fave '90s Shows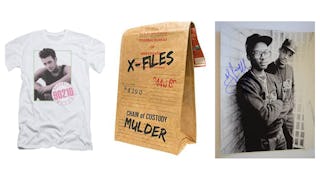 Image credit: Walmart / Amazon
'90s teens! There is nothing better than reliving our glory days of choker necklaces and combat boots and listening to Nirvana on continuous loop, amiright? (Or maybe you were a BSB/NSYNC girl.) Either way, thanks to the glory of the internet (a new invention we were just starting to hear about back then), we can still reminisce about our love for Dylan McKay (RIP), drink coffee out of a Buffy the Vampire Slayer mug, and buy our very own autographed picture of DJ Jazzy Jeff and the Fresh Prince. It's all here, so get yours.
In light of his recent passing, 90210 fans everywhere are scrambling to get their Luke Perry gear so they can keep his memory alive. This Dylan McKay tee will do the trick. Or if you were often conflicted between your loyalty to Brandon vs. Dylan, this one's a good buy too.
Spray this cologne, and maybe you'll smell like Kelly and Donna. Maybe it will make your pillow smell like Brandon and Dylan. Either way, this scent can take you back to the days you dreamed you'd someday walk the halls of West Beverly High.
Channel your inner Steve Urkel and practice some good ol' self-reflection with this journal inspired by one of the most famous TV lines from the '90s.
Well, you may not live in Stars Hollow, but you can at least eat like Rory and Lorelai by cooking up some delish meals from the Unofficial Cookbook for Fans of Gilmore Girls. (We're counting on tacos and pie.)
This bracelet will remind you of a certain Gilmore Girls episode and a famous Latin phrase that means "ready for all things." And didn't you feel ready as a teenager, watching this mother and daughter team take on the world? I sure did.
Who was your fave? Well, it doesn't matter because they're all here on this super-comfy nostalgia tee. Even Grams!
How much do you love this throwback photo of two kids who showed us what real friendship meant (and also initiated us into the world of rap music)?
The '90s showed us "what happens when people stop being polite and start getting real." (And made us fall in love with Eric Nies.) Check out this book of confessions from contestants who lived this "reality."
While 90210 made us fantasize about a dream high school life, Melrose Place taught us some harsh realities about adulthood, as reflected in this painfully accurate coffee mug.
These Adidas sneakers with Beavis & Butthead graphics will take you back to your teens years when you watched one of the first inappropriate cartoons that broke the mold and made being obnoxious totally acceptable.
Well, you're officially a grownup (like you always wanted to be!) but at least you can take your lunch to work in this kick-ass X-Files lunch bag and pretend your name is Mulder, which would be way cooler.
This shirt reminds us of Martin and Gina and how they made us laugh, how she drove him crazy, and how much they loved each other. But most of all, how many times he said "Damn, Gina!" per episode.
Another show that brought us unrealistic dreams for adulthood was our beloved Friends, set smack-dab in the middle of NYC. So how about hanging a yellow frame around your door's peephole, since that's the closest you'll ever get to living in a gorge apartment like Monica's?
This mug is essential for any Buffy the Vampire Slayer fan. I mean, why are you talking to me right now? Can't you see Buffy and Pike are about to fight Lothos?
The '90s girl knew where to go for good quotes and good inspiration on love—Carrie Bradshaw and her sexy NYC galpals, that's where. This pillow has one of the show's most famous quotes—and it's a good one.
The '90s were the best decade ever—there's no question. So drown your sorrows over paying bills and sprouting gray hairs with a Sex and the City marathon, pour some hot coffee in your Melrose Place mug, and cook up some recipes inspired by Lorelai herself. Maybe Pacey Witter will show up at your door—you never know.
We may earn fees from purchases made via links on this page and affiliated sites. All opinions are our own.
This article was originally published on