Why Are Dressed-Up Kids So Cute? IDK, But We Want All Of These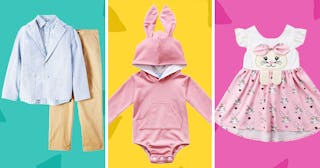 Walmart
Easter is a fun time for parents to dress their kids up in bright colors, take 200 million pictures, and then cringe while they crawl around in the dirt looking for eggs. Yay! So, if you're in that camp—you want to doll up your little humans in bowties and tulle, but you don't want to light a hundred bucks on fire—check out this list of adorbs Easter outfits that are budget-friendly.
Is there anything cuter than toddlers in suspenders? No, there is not. That's why this "gentlemen's" outfit would make every single person who sees your kid say "awwwww" on Easter Sunday.
This hooded rabbit ear romper is a perfect choice for the active baby just learning to crawl, as it's clearly cute from all angles.
Again, suspenders and bowties. Especially on onesies. A-DOR-A-BLE. So grab this one before it sells out!
Everyone knows you're a shit parent if you don't put a "Baby's First _____" on your child for each major holiday. If you love your child at all, get this onesie ASAP.
OMG, how handsome will your kid look in this 3-piece outfit?! This one may almost make you forget that your child threw a ball through the kitchen window and tracked mud on your white carpet. Almost.
This rabbit romper dress looks super cute and comfy so your little one can look the part, but also run around stealing eggs from their siblings.
When you want to be a little bit fancy and a little bit rock and roll, you mix denim and tulle. (Everyone knows that.) This dress even comes with a motivational message all kids should hear.
There's nothing better than a soft, simple, knitted romper with a bunny on it, amiright? For a hotter climate, your baby can wear this plus a diaper all day and steal the show. And, if it's cool where you live, a white shirt and pants can complete the look.
Sweater vests on little kids are hands-down one of the cutest styles ever. This puppy sweater plus fashion-forward green pants make an Easter outfit that will definitely be IG-worthy.
Two words: Leg. Warmers. Need we say more?
If your kid wants a more casual look that's still festive, a dabbing Easter bunny tee should do the trick.
Picture your little one toddling around in this one-piece tutu Easter bunny dress! Everyone will be snapping their pics all day long.
And finally, for the baby who's already a fashionista, this topknot 2-piece outfit is sure to steal the show on Easter morning.
Parents, we all know our kids are covered in mud and chocolate by lunch time on Easter, so there's no need to break the bank to show off how cute they are. These super cute outfits are affordable and are guaranteed to make Grandma swoon. Just don't forget to snap a few pics before the egg hunt!
We may earn fees from purchases made via links on this page and affiliated sites. All opinions are our own.
This article was originally published on