10 Of Our Favorite Apps To Zone Out To
by Holly Garcia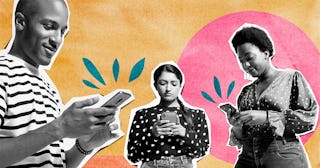 We Are/Getty
The ability to zone out is incredibly underrated. Everywhere we turn, we're bombarded with hustle porn. You know, all the secrets to success and best practices that are constantly shoved down our throats in an attempt to help us hack our productivity.
One of the most ridiculous statements making the rounds on social this past year went a little something like this, "If you don't come out of this quarantine with a new skill set, your side hustle started, more knowledge–you never lacked time, you lacked discipline."
Really? These words are incredibly insensitive. What about the people who became caretakers to elderly or immune-compromised family members who were terrified to leave the house? Or how about every parent of school-aged children taking on another role as a part-time teacher? Some people lost their job, many lost loved ones. And honestly, if you made it out of the last year with your sanity (somewhat) intact, you're a winner!
Running full speed ahead into the new normal, let's make sure we leave the problematic productivity myths behind. Don't waste a moment! Do more in less time! You can sleep when you're dead! Please join me in a resounding, oh, hell no.
As a recovering workaholic who suffered from high-functioning anxiety, relaxing and zoning out is much easier said than done. But it is abso-freakin-lutely necessary. Hold space for quiet time. Space for the moments where you zone out and turn your focus to activities you engaged in, just for fun.
Whether you want to try your hand at interior designing, sharpen up your wordsmith skills, or spend time gazing into the equivalent of a virtual glitter bottle, these apps guarantee to help you zone out. Give your mind a break from hustle and bustle of your day-to-day and allow yourself to relax.
Ever wondered what it's like to have a (nearly) unlimited design budget? The design opportunities are endless and prepare to get lost for hours.
Abide brands itself as a Christian meditation app. They have guided meditations between 2 and 15 minutes long. There is also space to journal thought as they come to you. Journaling virtually or with pen and paper is known to help relieve stress and manage anxiety and other mental health conditions.
Each level has a different theme, which gives you a clue as to what words you're looking for to complete the puzzle.
I've never worked in the foodservice industry, but I imagine when they're slammed, it's a lot like this game. Make sure you cook the food to order or risk your customers walking out.
Move the tiles to complete a tantalizing rainbow of perfectly shaded colors. You never realized how complex and challenging creating the perfect rainbow could be until there were 52 squares to organize. But don't fret it's just a game and is a great way to take your mind of real-life problems.
Match the images until they all disappear. They've got everything from adorable pups to refreshing fruits that will have you craving a smoothie asap.
Just like real-life coloring, inspire your creativity and relieve your stress by bringing these beautiful photos to life with your own unique vision. There is nothing more irritating than knowing exactly what color you need to complete the scene. With Adulting Color, never worry about having to substitute some lack-luster shade or blue when what you really needed was cerulean. (Yes, I take my creative coloring very seriously).
While this isn't a game, this app will help keep you in an elevated state of mind with the option to receive hourly affirmations. Think of it as that friend who always knows what to say, exactly when you need it.
Y'all know the drill. It's been a classic since 1984. Though, I don't remember it being so touchy. Enjoyed a timed, quick play (3 minutes) or a marathon experience, and pick it up, flip it, and reverse it until you can't anymore.
Last but not least, remember that virtual glitter bottle? I don't know about you, but it is entrancing and relaxing to watching fluorescent colors swirl and twirl with a touch of your finger. You wouldn't think you'd spend too much time on this app as there isn't an end goal pursue. But that's exactly the point and the beauty of it all; you don't have to be productive or have a purpose. Just zone out. Pair this activity with deep breathing exercises and feel the calm wash over you.
Holding space to zone out isn't lazy, and it isn't a waste of time but is something you should always incorporate. There is a little something for everyone. I've had the pleasure of trying each app out because, you know, research, and I promise you won't be disappointed.
You get to decide how to spend your me-time. There is absolutely no right or wrong way to do it. The only rule is that you enjoy it.
This article was originally published on