This Family Tradition Might Be Quirky, But It's My Favorite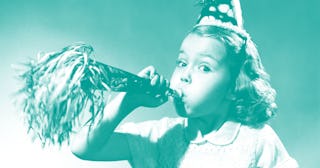 Scary Mommy and Debrocke/ClassicStock/Getty
I am not a huge fan of holidays. There is too much anticipation and then expectation around making the day special and perfect. I tend to compare what other families are doing and then notice what I am lacking in terms of extended family and contact with my parents. I made the right choice to cut toxicity from my life, but I still mourn what isn't.
On Thanksgiving, Christmas, or Easter, I am fortunate to have my little family—though three kids doesn't feel little on most days—and friends who have become family sitting around the dinner table. But I am always relieved when the calendar resumes its normal, mundane routine.
But birthdays are another story. Sure, any holiday can morph into what you make it and traditions can be set anytime, but the birthday traditions we have in our house are my favorite and make the day the best kind of big deal.
When my former partner and I were in college, for one of our birthdays we hung a long, easily 6 foot, foil banner that had the words HAPPY BIRTHDAY written on it multiple times. We taped it on the wall in an off campus apartment, exchanged gifts, and added some of the curling ribbon from the wrapping onto the banner. A few days later, we took it down, rolled it up, and put it away. When the next birthday showed up on the calendar, we unfurled the banner and placed it back on the wall to celebrate a roommate or each other. When we graduated a couple of years later and moved on to new jobs and a new state the birthday banner came with us.
In a new space, we tried to continue familiar routines. And when it was time to celebrate another year of getting older, we pulled the birthday banner from our small box of holiday decorations and stretched it across a wall. Without much thought, we had started a new tradition. Nearly 20 years and 3 kids later, the birthday banner is still being used, but it, like our family, has gone through some changes.
At one point we cut the banner in two. I honestly can't remember if it was because we didn't have the wall space to accommodate the long banner or if we just wanted the banner on display in two separate locations to make the house feel more celebratory. It doesn't matter, though, because for several years now what we have hung on the wall the night before a family member's birthday is an edited version of the original decoration.
What the birthday person sees the morning of their birthday—and not a moment before—is a wrinkled, tape-laden, battered with micro tears, shredded-ribbon-holding 3 foot banner that reads BIRTHDAY HAPPY BIRTHDAY. Why did I cut it that way? Why did I not take the scissors to frame HAPPY BIRTHDAY HAPPY BIRTHDAY? I don't know, but the quirkiness adds to affection I have for this tradition.
Over the years, ribbons have been added from birthday presents, baby shower gifts, gifts to welcome home babies, and decorations from kids' birthday parties. The birthday banner has become a living timeline of milestones that blend together to be celebrated on the day each of us were born. Because without our births none of these interconnected moments of joy would be the same. They wouldn't be.
Our family is an edited version of its original form too. The addition of kids changed the cast of characters in our story, but life, growth, and unexpected discoveries changed us too. My partner and I no longer have a partnership in marriage, but we have a co-parenting partnership and we have friendship. We are finding ways to keep all the tears together, but we can still celebrate the milestones. The birthday banner is a reminder of the good that came out of our relationship even though it didn't end the way we thought it would.
And where there is a beat up foil banner, there is dessert. Another birthday tradition in our house is rainbow cake. The recipe is called the Coming Out Bundt and came from a cookbook titled Bundt Cake Bliss. We have been out for years, but the queer still applies, so whether you like it or not, you get a rainbow cake on your birthday. The cake calls for pudding mix, sour cream, and lots of butter, so really, what is there NOT to love? Sometimes the kids request a different kind of cake for their birthday party (really this is just a way to get more cake), but their actual birthday cake is one with the colors that represent our LGBTQIA+ family. Pride and tradition don't fall far from each other.
As one of our birthdays approach, everyone knows the birthday banner and rainbow cake are coming. We know we will wake up and find the banner hanging over a doorway, but there is an unspoken rule that the birthday person can't see the banner being hung up. It's not until the birthday person has gone to bed that one of us carefully unrolls the 20-year-old decoration that is heavy with tape and messy with ribbons. But like all good traditions, it's expected. It comes with joyful anticipation and the familiarity and memories never let us down.
The layers of colorful cake aren't so bad either.
This article was originally published on