FBI's Massive Manhunt That Closed Colorado Schools Has Ended
by Valerie Williams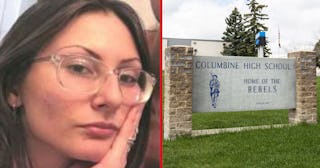 Jefferson County Police and Chet Strange / Getty
FBI manhunt ends in Sol Pais' death
After threats resulting in over 20 Denver-area school districts being closed today, the "massive manhunt" for an 18-year-old woman said to be "infatuated" with the 1999 Columbine school shooting has ended in her death.
The Denver FBI sent out information on Twitter letting citizens know that "there is no longer a threat to the community."
They followed up with the confirmation of the suspect, Sol Pais', death. "We can confirm that Sol Pais is deceased. We are grateful to everyone who submitted tips and to all our law enforcement partners for their efforts in keeping our community safe," they said.
Authorities tell The New York Times, that Pais was apparently on a "pilgrimage" to Columbine as the 20th anniversary of the school shooting is this Saturday. Her threats caused hundreds of Denver-area schools to close today as the search for her continued. She was armed, having purchased a pump action shot gun after flying into Denver from Miami yesterday. Sheriff Jeff Shrader of Jefferson County has confirmed that Pais died from an "apparent self-inflicted gunshot wound."
Before locating her, the FBI and local law enforcement had warned that Pais was armed and "extremely dangerous." They called the teen "infatuated" with both the Columbine massacre and its perpetrators. Before she was found, FBI Special Agent Dean Phillips explained why law enforcement was considering Pais a threat. "Because of her comments and her actions, because of her travel here to the state, because of her procurement of a weapon immediately upon arriving here," he said. "We consider her to be a credible threat — certainly to the community and, potentially, to schools."
Pais was a student at Miami Beach Senior High School and was last seen in a black T-shirt, camouflage pants and black boots, according to FBI reports. Before the FBI reported she had been found, they were focusing their search for her at the base of Mt. Evans. Previous reports said Pais was last seen in the foothills of Jefferson County, which is the county Columbine High School is located in.
In the years since Columbine, the school has developed "likely the most sophisticated school security system in the country," according to The Washington Post. And this isn't the first time they're received such a threat since the 1999 massacre. But all the advanced security measures in the world can't make it easy for a town that's already been through so much to cope with the threat of it possibly happening all over again. Thankfully, this time, no school children were hurt.